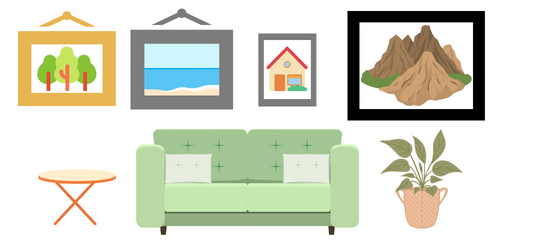 Decorating your walls with your favourite framed picture adds a touch of personality and classiness to your home. When hanging a heavy piece of art on the wall, you're probably wondering "do you have to hang pictures on a stud?" – we've all been there. While this question might seem like a simple yes or no question, there are more thing to consider:
What Are the Most Popular Options for Hanging Art or Photos?
When it comes to hanging artwork in your home, apartment, or business – there are a few things and options that you can consider.
Your wall material and the placement that you are looking to achieve will (obviously) be two important factors to consider, but beyond that, there are a few options that you will have for hanging artwork or photos.
Some of the most popular options for hanging art or photos include:
Studs – which we will go into in some detail below
Picture rails – these can be a great option, albeit pricey
Small nails or screws with a hook – popular but can cause some superficial damage walls which an cause headaches for if you live in a rental property.
Adhesive strips or Velcro – these are generally restricted to very light frames
As you can see, there are no shortage of options when it comes to hanging pictures. In this article, we're going to double down on hanging pictures with studs to provide you with a balanced view on the pros, cons, and what you need to consider before charging your drill.
The Benefits of Using a Stud for Your Pictures
Using a stud for hanging up your favourite pictures and art installations comes with a lot of benefits, that help you to make it the highlight of the room. Here are just a few benefits of studs for picture hanging:
Studs Add to Structural Stability:
Studs significantly increase the safety and stability of your pictures on the wall. They securely fasten the picture to the wall and prevent damage to your walls, such as draught or the own weight of your framed pictures.
Studs Improve the Aesthetics:
Hanging your pictures on a stud is beneficial for the visual aesthetics of your favourite art pieces. If used correctly, you won't stand back after hanging a picture and realise its crooked. Instead, studs create a level and organised display of your pictures.
Studs Give You Decorative Flexibility
Well placed studs can change your walls into your own little art gallery. If you don't enjoy a certain picture anymore or want to change your decoration for the holiday season, you can easily move them around and rearrange your decoration by using the same studs for other pictures.
Studs Save Time and Money
In comparison to other picture hanging methods, hanging pictures on your studs are easy to install and don't require a lot of hardware to put in the wall safely. As they require minimal effort to install, the art installation will be done in no time. Additionally, using studs makes art installation more cost efficient than other methods.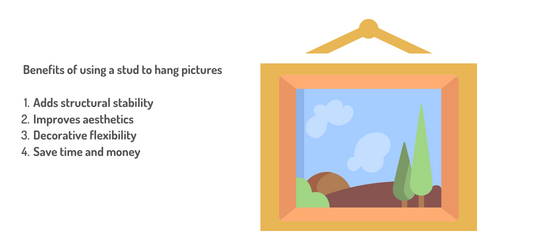 Do Picture Hooks Need a Stud?
The short answer is – it depends.
Picture hooks do not necessarily require a stud in order to be functional and useful. The best rule of thumb to apply is that heavy items (think: mirror, heavy frame etc.) will require a hook that is anchored to a stud.
On the other hand, if you're looking to hang something like a lightweight picture frame or small mirror, you can get away with using a simple adhesive hook and won't require a stud as an anchor point.
In short, if you can hold the frame comfortably with a single finger, then you may not need a stud. If your finger begins to buckle, then it's probably a good idea to use a stud to make sure that there are no issues or unwanted crashes in the middle of the night.
Tips for Finding the Right Place to Mount Studs
First and foremost, unless you have experience or room for error, then it's always best to call in professional picture hangers to help with mounting art, mirrors, or frames in your home or office. If you're hellbent on DIY and fancy yourself as a contender on the next series of The Block, then here are some tips that you need to follow:
Measure thrice, mark twice, drill once – like anything, take your time to make sure that you are measuring and marking before making any irreversible changes to your walls.
Carefully consider height – more info about hanging pictures at the right height can be found in our comprehensive guide.
Use multiple studs where required – some images will require more than one anchor point – make sure that you use multiple studs where required.
Wrapping up
So, there you have it. While it is entirely possible to hang pictures on a stud, it may be better to call in the experts to make sure that you're not woken in the night with the dreaded sound of your priceless family artefacts crashing to the ground.
Leaving it to the pros means that you can be sure that your art work is going to look great and is secure and safe. Whether you're looking for picture hangers in Melbourne, Sydney, or Brisbane – we've got you covered.