Melbourne Picture Framing
Are you looking for Melbourne picture framing services near you? At Professional Picture Hanging, we offer the quickest and most convenient custom picture framing Melbourne has to offer.
We will take care of everything required to get your pictures, posters, and artworks mounted, framed, and hung with as little fuss as possible. Never again will you have to trawl through search results to find a local framer to create picture frames that highlight your art or waste time waiting for your framing job to be completed. Instead, rely on great quality service. Our mobile custom framing services are the best custom picture framing Melbourne locals can rely on. We will come to you to collect your artwork and mount and frame simultaneously, with no effort needed on your part. We'll securely transport them back to you once completed and can even hang them for you.
A well-framed picture, poster, painting or photograph can add the finishing touch to any room in your house. Whether a finger painting, retro poster or priceless artwork, Professional Picture Hanging will make sure your items are framed to perfection with excellent service.
Custom Framing Melbourne
At Professional Picture Hanging, we're experienced art professionals who take pride in our work. Our background in framing and picture frame hanging Melbourne for artworks in art galleries has given us a solid understanding of all things art and design, making us Melbourne's leading framing service.
If you're on a budget and are looking for cheap and professional picture framing and custom frames Melbourne-wide, our mobile framing same day service allows us to keep costs competitive and our turnaround time quick.
Ready to book your framing service?
How Do Mobile Framing Services Work?
Step 1. Give us all call or complete the contact form to submit an enquiry. Once we have all the information we need about your requirements, we'll provide you with an obligation-free quote for your finished product.
Step 2. We'll come to you and collect the item or items that you'd like framed, so you don't have to lift a finger. Our timely mobile framing Melbourne professional service will have your pictures framed and returned safely to you in no time.
Step 3. Sit back and enjoy your newly framed pictures! We're confident you'll be pleased with our high-quality, fully customisable service and prompt service.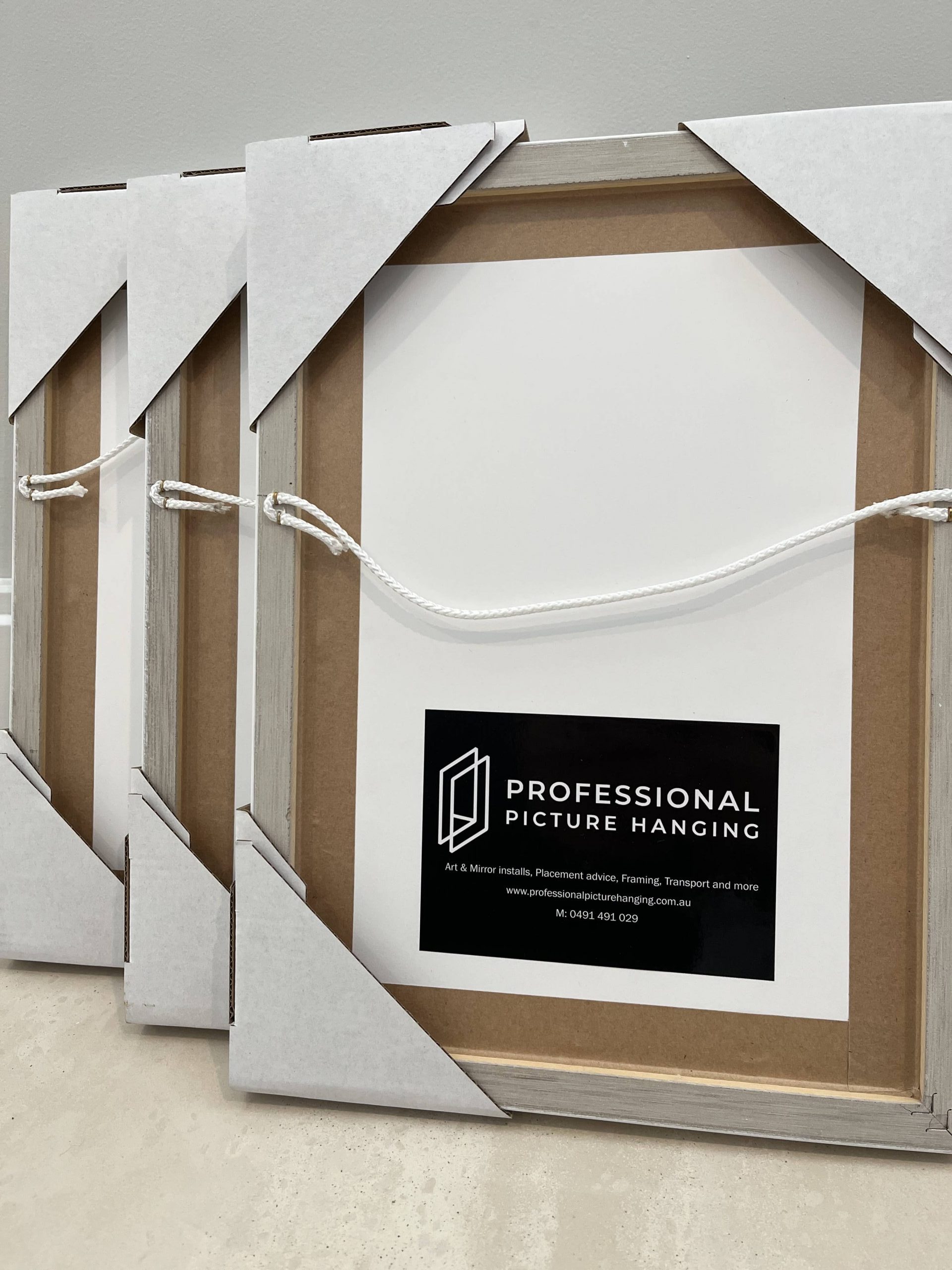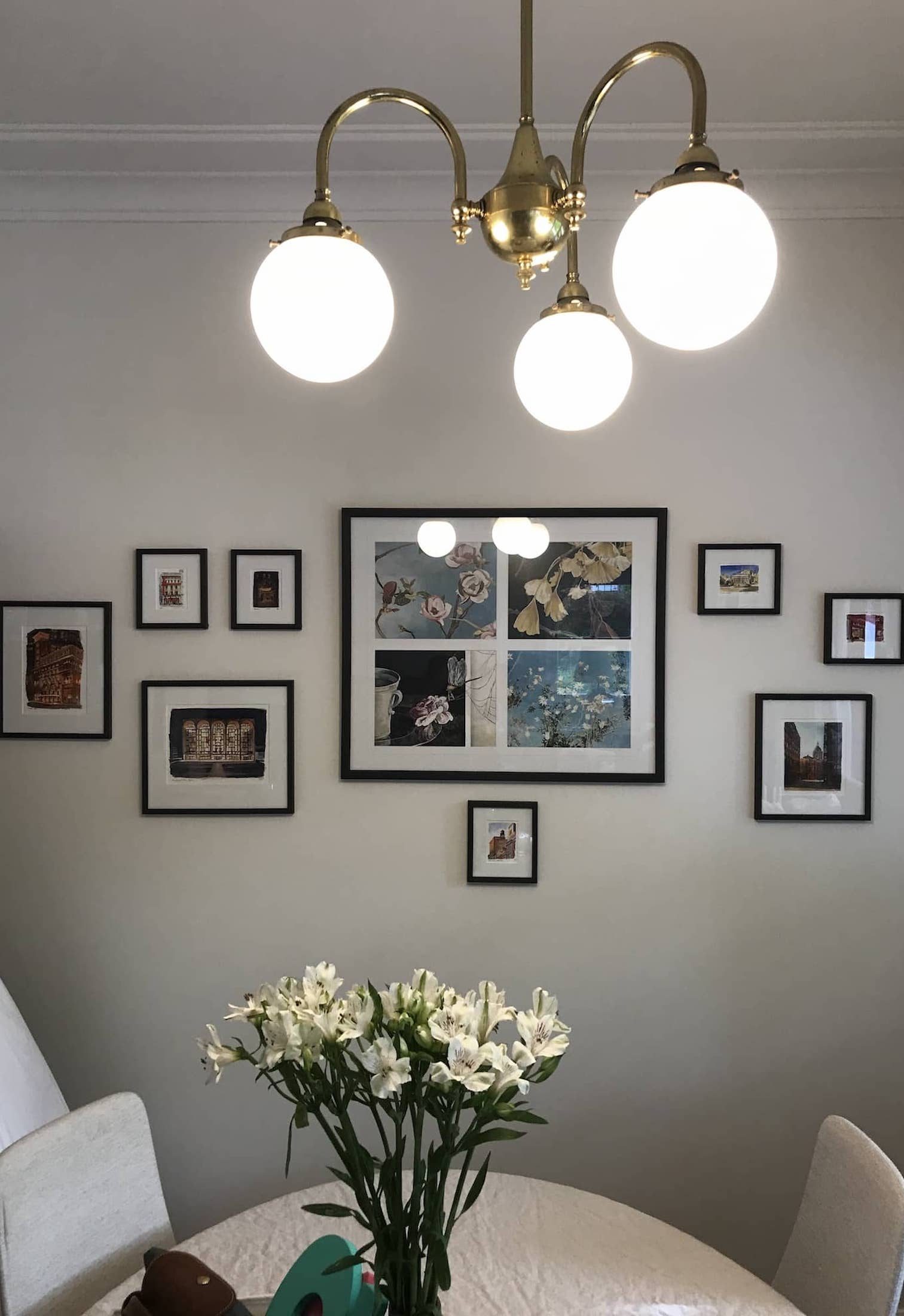 Framing Pictures Of All Shapes & Sizes
Not only can we take care of mounting, professional framing and even hanging your picture frames, we're also happy to share our wealth of knowledge as seasoned art professionals and the most reliable quality framing service Melbourne has to offer. We're here to help if you need some great advice about what custom frame or mounting board would look best or where to hang your items in your house.
Depending on the type of image you have - whether it's a poorly framed print, memento, family photos, a certificate, an art-work or a holiday snapshot, at Professional Picture Hanging, we believe there's a perfect frame for every picture. Framing your treasured items not only displays them at their best for you to enjoy, but it also protects them from dust, sun damage and dampness. There's a solution for every problem in our extensive range, so talk to us about our fully custom frames, such as custom photo frames or canva frames, mounting boards and protective glass options. We're here to turn your favourite pieces into timeless keepsakes you can treasure for a lifetime.
Frequently Asked Questions
How Much Does Melbourne Picture Framing Cost?
The cost of mobile Melbourne picture framing services varies depending on your picture's size, the type of picture frame you choose, and how many items you need to be framed. At Professional Picture Hanging, we're a team of art professionals offering a high-quality mobile framing service. We're not merely a handyman service, which is reflected in the professional service we provide and our pricing. After your first service with Professional Picture Hanging, you'll want them for all your future framing.
We're more than happy to give you a free quote upon completion of the contact form at the bottom of this page. Alternatively, we'll give you a quote on the spot if you call us on 0491 491 029.
Can I Get Same Day Picture Framing in Melbourne?
Yes! We're a busy mobile team completing many series across Melbourne each day, so we're usually able to mount, frame and hang your picture on the same day of your enquiry. Our same day custom framing mobile services Melbourne-wide includes:
• Free picture framing consultation and expert advice
• Mobile picture framing
• A selection of custom picture frames for you to choose from if needed
• Certificate framing
• Canvas framing
• Posters or print framing
• Memorabilia framing

You're busy enough, so let the professionals take the stress out of framing your precious items so you can get on doing what you're best at. Our seamless, all-in-one service will help you preserve and enjoy your most treasured photographs, prints, certificates, artworks and other framing needs..
What Other Services Do You Offer?
At Professional Picture Hanging, we're experts in the art world and have considerable experience and suitable options for mounting, framing, hanging, installing, and styling artworks and custom mirrors. The Mel-bourne picture framing market is awash with competitors who offer low-quality framing and hanging services, so we're proud to offer an all-in-one service that's high quality but still affordable.
Can You Fix Broken Picture Frames?
Several factors affect whether we'll be able to fix a frame. The most common breakages we see are damaged hangers and separated corners, and these we can mostly mend. We do an amazing quality job on them. Things become more complicated if the structure in question was low-quality to begin with, but we'll always do our best for you and will happily fix any photo frame if it's possible to do so without causing further damage.
What Payment Do You Require?
We offer cheap framing Melbourne-wide. After the custom picture framing, mounting and installa-tion are complete, we can process card payments on the spot. Alternatively, we can organ-ise to send an invoice which is due to be paid within a maximum of 14 days.
How Do I Book Your Framing Services Melbourne?
You can book the most accessible framing services Melbourne has to offer in just a couple of easy steps. You can either call us or fill in the contact form to start the process. Make sure you include as much information as possible so that we can offer an accurate quote that doesn't need revising. We need to know where you are in Melbourne, how many art-works you need mounting or framed, the dimensions and weight of your artworks and the condition of the wall you want them hung on.
When it comes to mobile picture framing, the largest range is with Professional Picture Hanging. We have a framing solution for any artwork, in any situation. We're adept at working across both residential and commercial settings and are used to creating solutions in challenging circumstances. No matter how large the artwork, how old the photo frame or how crumbly the wall is, our largest range of frames has got the got you covered. We're punctual, affordable, professional, and clean.
There's no need to continue searching for the best Melbourne picture framing service; we're it! Our mobile one-stop-shop will have your picture framed and hung to their best advantage in no time with as little disruption to your schedule as possible. Call our knowledgable and experienced staff today on 0491 491 029.