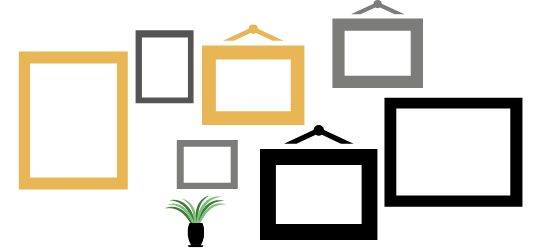 So, you've chosen your picture or artwork and your favourite section of the house or office, and now it's time to hang it on the wall. But now comes the most challenging part – choosing what height to hang pictures in each space.
"What height to hang a picture?", is a commonly asked question, and numerous factors are involved when hanging a picture on your wall. First, you'll want to determine if you wish your chosen frame to hang at eye level or how close you want the frame to hang in proportion to a bed or couch below.
Getting the spot right is crucial in the layout of your room. Guests should comfortably enjoy photos of relatives or relish in masterpieces from famed artists (including those by yourself). Whether your goal is to hang to one important picture or to build a gallery of memories, this guide will help you choose the perfect height to hang your pictures.
Professional Picture Hanging by name and by nature. Our team offers same-day picture and artwork installations across Sydney, Melbourne and Brisbane. We have hung thousands of artworks in every space available; we will make sure you know the best height to hang your pictures on walls, hallways or any room in the house.
Choosing The Right Height to Hang Pictures on Walls
The general rule of thumb for measuring where to hang your picture is to start by measuring between 150 and 160 centimetres from the ground up along the wall on which the picture is to be hung. This is about average eye height.
Once you've found your height to hang your picture, you'll want to measure it and divide it in half to find the centre. If your artwork hangs on a wire, you'll need to get the measurement from the top of the work down to the wire. Take this measurement and subtract from that half of the picture height you measured before, and voila! That measurement is how high above your 155-centimetre measurement you should go.
There are, of course, a few ways in which this method can be altered or amended to best suit your chosen space. Here are a few common issues that can be encountered when deciding on the height to hang pictures on walls.
1. Don't Hang a Picture Too High.
A common misconception when hanging a picture is that the higher it is, the more visible it is. You shouldn't have to tilt your head too far up to be able to view the pictures. Experts tend to agree that you should have your pictures hanging at eye height, as you should be able to look straight at your artwork to admire it. As the height and eye line vary from person to person, we recommend that as this is your home or office, it should be based on you.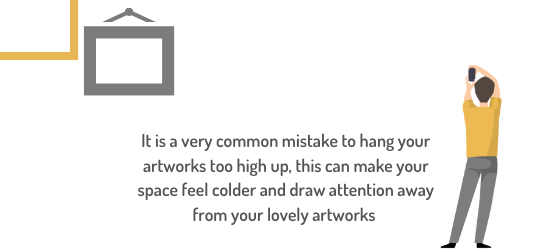 2. What About the Space Above Or Below The Work?
If your home or office space has high ceilings, we still recommend using the standard 155-centimetre measurement; however, we encourage hanging more works above there if you have the room! On the other hand, if you are hanging a picture above a desk, sofa, or even bedframe, we would advise you to give about 20cm of space between the end of the furnishing and the beginning of your picture frame.
3. What Height to Hang Pictures in Hallway
Hallway fixtures often allow owners to hang more works or larger pictures due to the abundance of space. We believe that hallways also offer a fantastic opportunity to play with the layout of your pictures and get creative with their display. Hanging pictures in a cluster is an excellent way of integrating portraits of different shapes and sizes. This process can be pretty methodical, and you may need a professional to keep the ratios between the works within perspective.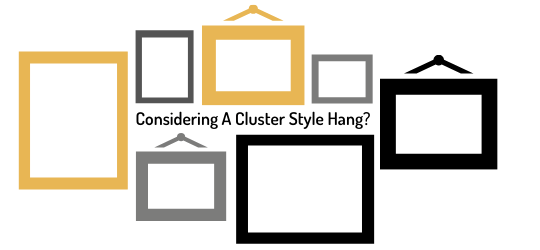 Hallways and foyers are often spaces where pictures will be seen by those who are standing, so it is essential here to have these works hanging at a suitable height. If you wish to hang more pictures on the wall, it is necessary to keep the size or centre of the cluster at an appropriate level, with a centre point that most catches the eye of the viewer. Finding the right configuration for a series of hallway pictures is a great addition to the space, and the height this is at will determine how much your artworks are noticed by your guests.
Rules are made to be broken.
Of course, there are no absolutes when dealing with how high to hang a picture. It is your space, and you should be able to hang pictures to your preference. The directive of hanging your pictures at the height of 155 centimetres off the ground may seem like a dependable guideline, and for the most part, it is. Nevertheless, many interior designers are moving away from this regimented guide, as it can make the inside of your house seem stale if you are hanging up numerous works. Our professional installation team can work with you to select a height for your pictures that best suits your home, whether you want to follow the rules or not!
Let Professional Picture Hanging Help You Today
Numerous factors come into play when choosing what height to hang pictures in your home or office. We understand that every space is different, and it takes a special effort to find the perfect way to hang your artworks – as well as the right picture rail systems.
We provide Australia's leading professional picture hanging in Sydney, Brisbane, and Melbourne. If you are worried about choosing the right height for your pictures or prefer to leave it to the professionals, contact us.
We offer same-day services to expertly and efficiently hang multiple pictures in a short time frame across residential, commercial and industrial settings. To book the Professional Picture Hanging Brisbane loves, contact us online or on 0491 491 029 to get a free quote.