PICTURE RAIL INSTALLATION SYDNEY, MELBOURNE & BRISBANE
Your most cherished pictures, artworks, and certificates deserve to be honoured and displayed with an exceptional picture hanging system. However, it can often be a challenge to get started, as we all know DIY can only get you so far. So, how do you properly display a large set of pictures? The solution is easy: consult the experts. If you're looking for picture hanging systems and installers that you can trust, look no further than the experienced team at Professional Picture Hanging.
We provide efficient and effective installation services and solutions for high-quality picture hanging systems, catering to residential and commercial properties across Sydney, Melbourne, and Brisbane. With sturdy, long-lasting picture rail hanging systems and unparalleled, customised installation services, you can trust Professional Picture Hanging to do right by your favourite pictures and artworks.
Whether it's for your home, office, or art gallery — you can use our picture rail systems almost anywhere. We can supply, deliver, and install effective picture rail tracks straight to your door — and to your wall. We also offer various picture-related services, including art transport, mirror hanging, picture hanging, and picture framing in Newcastle, Sydney, Brisbane, and Melbourne. For more information and assistance with picture hanging, framing, and installation, contact the experts at Professional Picture Hanging - we can't wait to help you create the perfect display!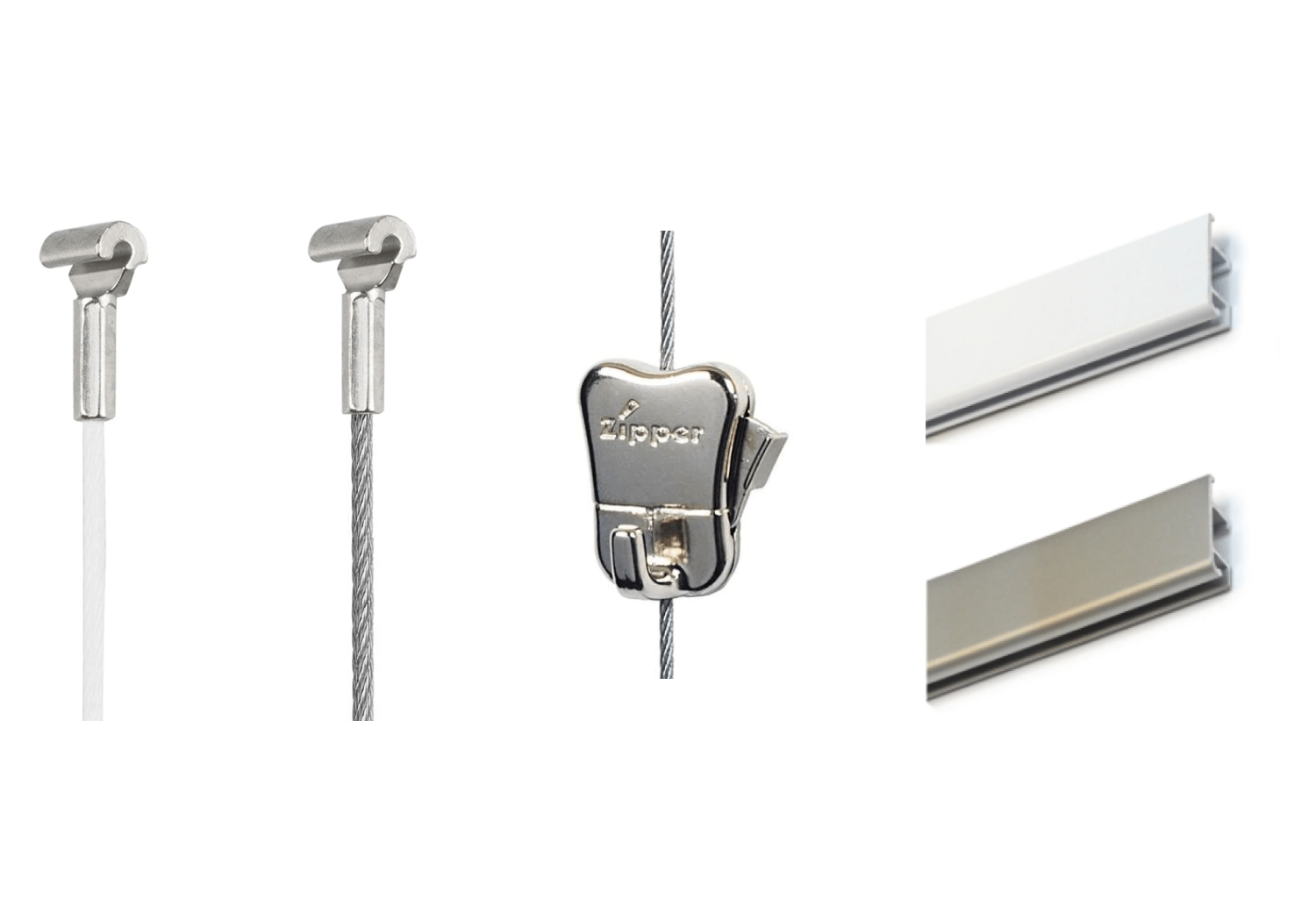 RELIABLE ART HANGING SYSTEMS
Framing and hanging pictures and artwork can be difficult and tedious, especially if you've got multiple pictures to be arranged in the perfect display. You may not even know where to begin with so many options. Professional Picture Hanging's fully modular picture hanging rails are the solution. With our picture hanging systems, you can display your wall decorations at home or work — with the freedom to swap frames over at any time.
Here are just a few of the best reasons to use our picture hanging systems:
• No drilling is required, eliminating ugly holes and damage.
• Easy to install, negating complex tools and time wasting.
• Versatility allows you to swap pictures out at any time.
• Durability, ensuring a long-lasting display.
Book your installation today
EXPERT PICTURE RAIL INSTALLATION SERVICES
Professional Picture Hanging's picture rail installation provides fuss-free, efficient, and practical solutions to the age-old dilemmas of accurately hanging pictures. Our picture rails eliminate the traditional consequences of incorrect picture hanging. With Professional Picture Hanging's modern picture hanging systems, you can hang your display without excessive drilling, nails, or screws that can damage and disfigure your walls if you get them wrong.
Here's your new, modern solution from Professional Picture Hanging: picture hanging rails. First, our picture rails are attached to the top of the wall. Then, your framed picture is hung via cables that hook onto the railings above. The wires connected to the rails are made from either nylon or steel. They can hold artworks weighing up to ten kilograms or fifteen kilograms, respectively — providing the perfect solution for heavier pictures you don't want to damage or drop.
We're ready and equipped to install your picture hanging systems and create an exhibit that does right by your favourite display pieces. Some of our most popular rail systems include the Slimline and Click Rail tracks, which come in silver or white and are designed to complement any picture or artwork. For more information about our hanging systems and to receive recommendations for the best designs for your display, get a quote today.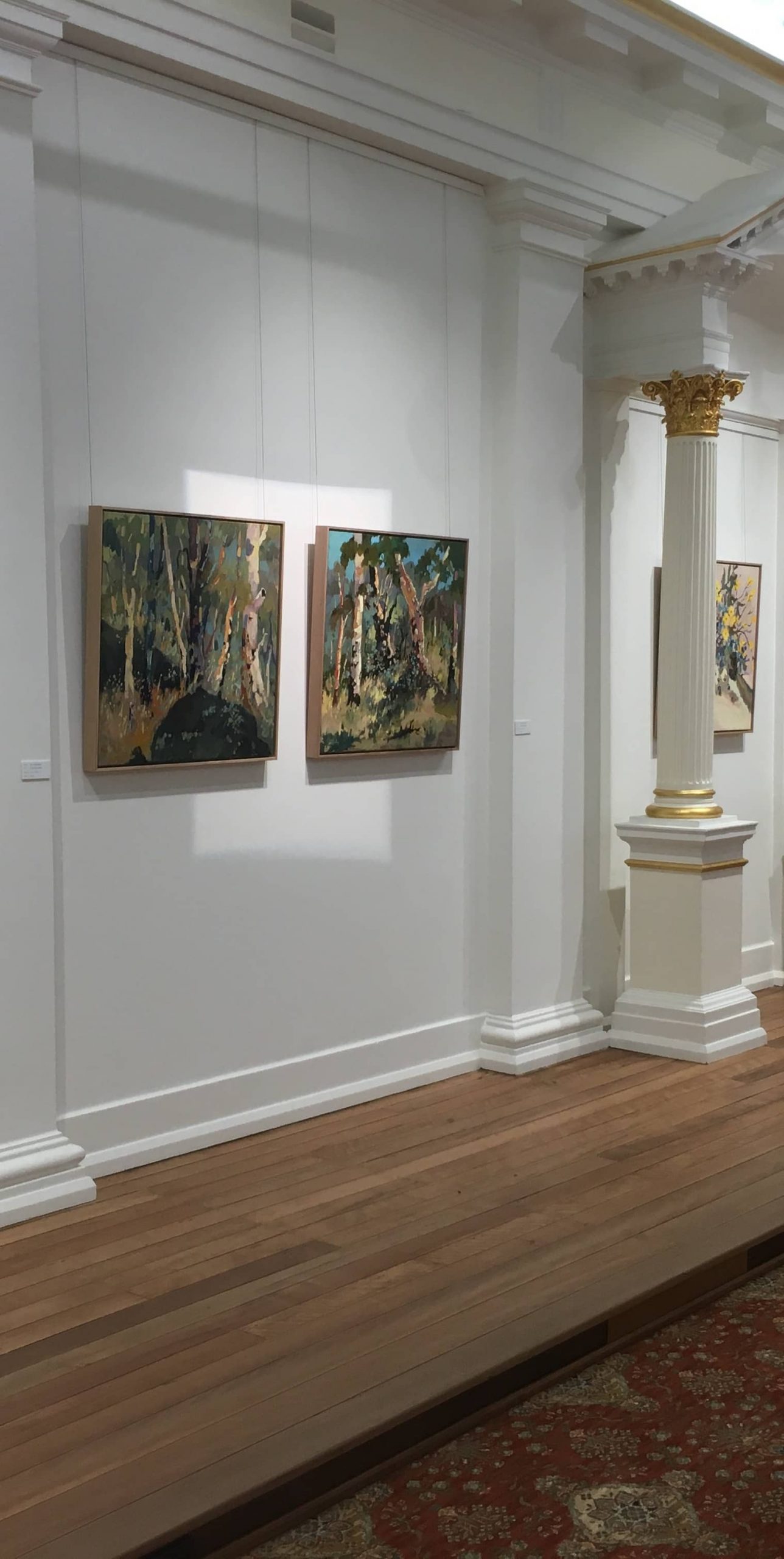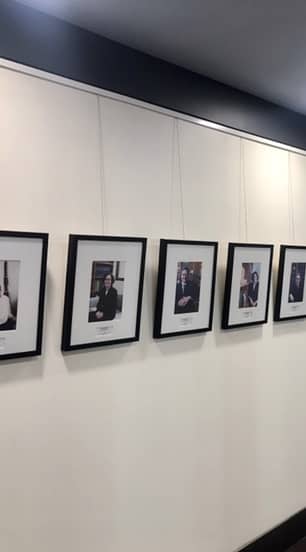 HOW PICTURE HANGING SYSTEMS WORK
1. Select the art you wish to hang, whether one large or multiple smaller works for a collage.
2. Check the weight of your works to ensure compatibility with our picture hanging systems (depending on your choice of material, our systems' capacity is between 10-15kgs).
3. Choose the walls that your artwork will decorate. Our team can install picture rails by the metre.
4. Contact Professional Picture Hanging for an on-site assessment and measurement.
5. We will provide a quote for your system, with multiple options that best suit your home, office, school, gallery, or other location.
6. Once you've chosen your favourite picture hanging solution, our team will install and hang your selected artwork as part of our comprehensive service.
7. Finally, step back and marvel at the display that adorns your wall.
Frequently Asked Questions
What Makes Picture Rail Systems Better Than Other Hanging Solutions?

Our picture hanging systems provide a unique and effective way of displaying your pictures and artwork. Here are the benefits that sets our systems apart:

• Damage-free

• You can rearrange your pictures at any time

• Sleek, professional aesthetic

• Easy to install and alter

• High weight capacity

• Safe and sturdy

• Minimal damage to walls


When Should I Use a Picture Rail Hanging System?

Professional Picture Hanging's picture rails are ideal for the following scenarios and more:

• Homeowners who like to change their art around and want to avoid patching over holes.

• Landlords who want to offer tenants the opportunity to hang artwork without damaging the property.

• Schools that want to hang pupils' works and regularly rotate artworks.

• Art galleries that need systems for frequently updating their works on display.


Do You Offer Same-Day Picture Hanging System Installation?

Our team provides installation services key areas across Sydney, Newcastle, Melbourne, the Gold Coast, and Brisbane, and we can almost always offer same-day picture hanging and picture rail installation. Contact us in the morning for the best chances of same-day picture-hanging system installation. If we can't get to you on the day, we will let you know as soon as possible and fit you in the next day.
What Areas Do You Offer Picture Hanging System Installation?

If you're within 25 km of Sydney, Melbourne, or Brisbane's CBD, we can come to you and install your picture hanging system — the very same day you contact us. For areas further than 25km, we can service jobs requiring picture rail track systems totalling over fifty metres.
Can You Hang My Pictures for Me After Installation?

Absolutely. We provide picture hanging and fitting as an add-on service while installing our picture hanging systems at your home or business.
How Much Do Picture Rail Systems Cost?

The total cost for our complete picture rail systems depends on several factors, including the following:

• The total length required for the picture hanging systems

• Your chosen material

• Your location

The best way to find out your total picture hanging system costs is by contacting us — then, we can visit you to determine the best solution for your display and work out a quote.

How Long Does Picture Rail Installation Take?

Picture rail installation requires great attention to detail to ensure the picture hanging systems are correctly anchored. Generally, the installation will take about an hour per eight metres of rails (not including hanging the artwork). Once we've installed your rails, you can hang works at different heights and change where your works are hung easily and comfortably. You can also easily change wallpaper or repaint your wall, as you can easily unhook your display from the hangers.

What Surfaces Can't I Use Picture Hanging Systems On?

Our expert picture hangers, frames, and installers have years of experience providing solutions for difficult surfaces, and we're confident that there's a solution for every wall. If you're unsure of the suitability or strength of your wall or surface for our hanging systems, contact our expert team at 0491 491 029. Let us know your location, how many pictures you have, their weight and size, and the material your wall is made of, including whether it's hollow or solid.