Byron Bay Picture Hanging Services
Professional Picture Hanging is Byron Bay's leading picture hanging and art installation specialist. Our expert team can help you professionally display your pictures and artwork tastefully and securely, ensuring an impressive appearance that boosts the beauty of your home or space.
Our Byron Bay art and picture hanging services include:
- Skillful layout and placement
- Customised displays
- Secure mounting
- Expert arrangement advice
- Accurate alignment and leveling
Get in touch with our team today to find out how we can dramatically enhance the look and feel of your space with well-placed pictures and art installations in Byron Bay at an affordable price.
Byron Bay's Best Picture Hangers
Get your pictures and artwork hung in Byron Bay by a professional who understands aesthetics and proper placement. With years of experience and successful jobs in galleries, homes, and commercial spaces, Professional Picture Hanging is your best option for quick and affordable picture-hanging services in Byron Bay.
No matter the size of your artwork or collection, we will work closely with you to find the best placement for displaying it in your space or wall. Our expert picture-hanging team will first assess your wall surface and layout to give you a preferred placement for your pictures and artwork, then proceed to install them securely and correctly.
Ready to get your artwork hung?
Our Picture Hanging Process
Partnering with us to hang your pictures will involve a seamless and hand-free process that only includes three quick steps.
Step 1. Contact our friendly team by submitting your details using the form on this page. Once we have the details about your pictures and artwork, we'll send you a free quote, with no strings attached, for our Byron Bay picture hanging services.
Step 2. Next, we'll conduct an inspection at your location to better understand your wall space and layout, as well as the artwork. This will help us plan the placement and arrangement of your pictures and artwork.
Step 3. Our expert team will install the required mounts and hang your pictures and artwork, ensuring that they are perfectly arranged and level.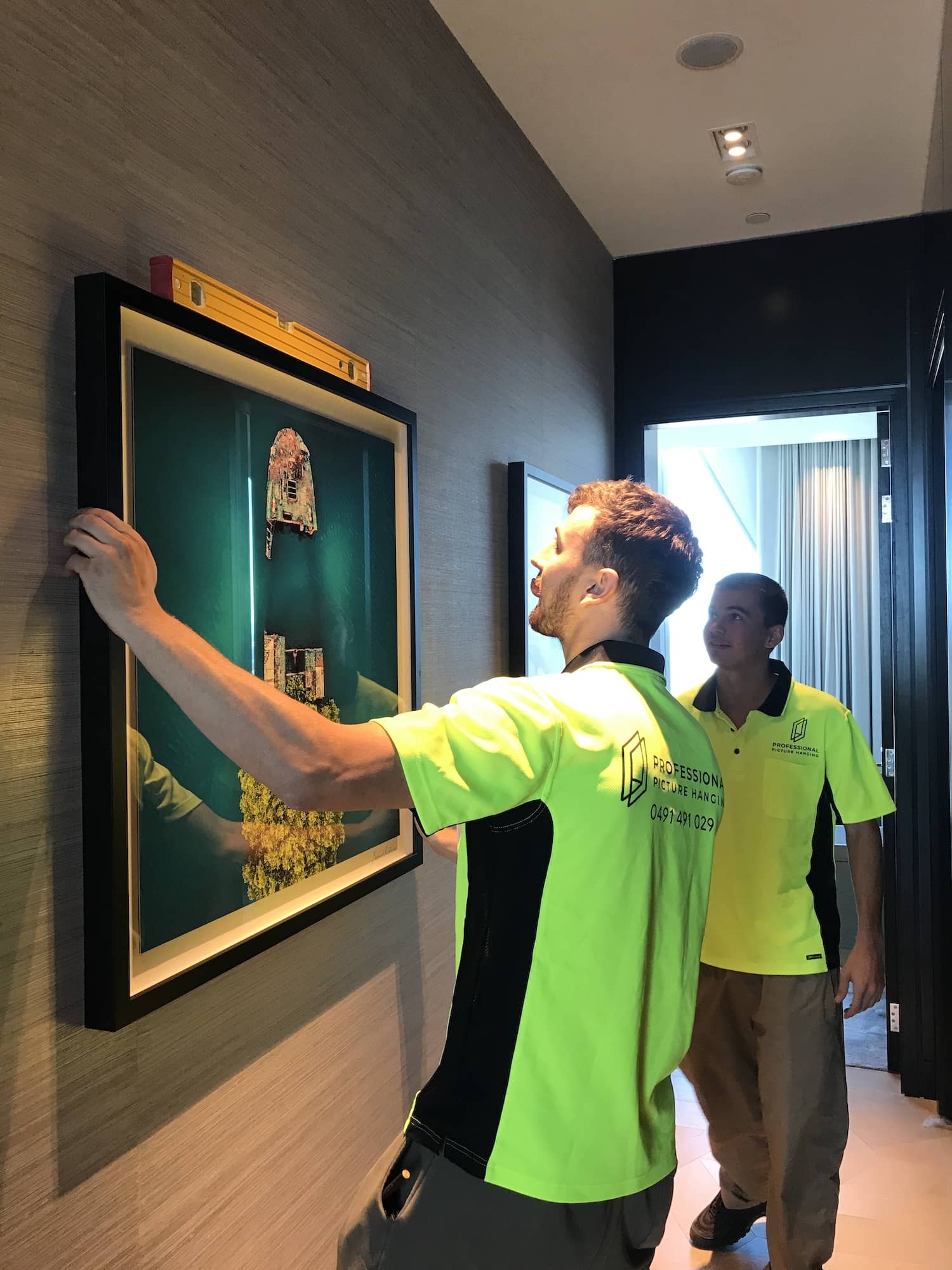 Our Picture Hanging Expertise
Our reputation as the go-to picture-hanging service in Byron Bay is backed by our years of experience in completing high-quality projects for our customers, as well as our 5-star ratings on Google.
At Professional Picture Hanging, we understand everything there is to know about the art of hanging pictures and art on all types of surfaces and are fully equipped with the right tools and materials to ensure that your collection is displayed safely and beautifully wherever you'd like it to be.
We will also provide you with professional advice on placement during the picture-hanging process to help you achieve the best result with your artwork or pictures.
Frequently Asked Questions
How much does picture hanging cost in Byron Bay?
The cost of picture hanging will depend on several different factors, including:
The type and size of the pictures/artwork
The number of pieces to be hung
The type of mounting needed
Your choice of framing options
The wall material
We will only be able to give you an accurate quote once we have a better understanding of your picture-hanging needs. You can obtain a free quote from us by submitting your information using the form on this page.
Can you move and install my art between properties?
Certainly! We will be able to assist with the removal of any artwork or pictures you have safely and securely, even if they have not been installed by our team. Once the pieces have been safely transported to your new property, we can proceed with the installation process.
Can you hang it on all surfaces?
Our picture-hanging services are applicable to most wall surfaces, including but not limited to:
Plasterboard
Wood
Tiles
Bricks
Concrete
Wallpaper
If you are unsure whether your wall surface is suitable for picture hanging, feel free to contact our friendly team to get our expert opinion.
How long does it take?
Depending on the number of pieces you need to hang and the complexity of the hanging, the process could take longer. That said, Professional Picture Hanging can often inspect your premises and have your pictures or artwork hung as soon as on the same day that you contact us.