Professional Picture Hanging Brisbane
So, you've found the perfect piece of art for your office, home, or studio. You're now wondering just how exactly you're going to hang and position it to get the best out of the piece and your space? Maybe you're concerned about damaging either the picture or your wall trying to hang it up yourself. Whatever your situation may be, you can be sure that Professional Picture Hanging, the picture hanging Brisbane experts, have the necessary knowledge, passion and skills needed to create the perfect end result.
Our unrivalled picture hanging Brisbane service takes the stress away from all things picture hanging, installing, and mounting, and is suitable for residential and commercial settings across Brisbane. Whether you're hanging up your child's artwork in the home, or carefully organising a new collection at an art gallery on Brunswick Street, you'll be in good hands with the best picture hangers Queensland has to offer.
We have plenty of experience working in galleries ourselves and use this artistic passion within our picture hanging services. We guarantee that, given our creative expertise, we'll be able to find the perfect mix of aesthetic design and functionality when hanging your pictures. Call the local art hanging Brisbane experts at Professional Picture Hanging today on 0491 491 029 for services across Brisbane, the Sunshine Coast and the Gold Coast.
Passionate Picture Hangers Brisbane
At Professional Picture Hanging, we're passionate artists with endless creativity, not a handyman service. There's an art to the proper hanging of pictures, and we're the experts at it. As local enthusiasts of the Brisbane art scene, you can be sure that your pictures and artworks will be hung 100% straight and level, installed with solid and reliable screws, and fitted with aesthetic yet practical fittings.
Across our many years experience hanging and mounting pictures and artworks, together with our artistic backgrounds, we've developed the most efficient, seamless, and functional hanging systems Brisbane has to offer, capable of enabling maximum benefit.
With us, no job is too big or too small; we pride ourselves on the nature of our no-fuss, safe and skilful picture hanging Brisbane. When you enlist our services, you can be sure that we'll not only find the perfect solution for your space, but we'll also be able to hang your pictures on the same day as your initial enquiry. How's that for efficiency?
Book now for perfectly hung pictures
How Does It Work?
Step 1. Submit your enquiry by either calling us direct or leaving your details in the enquiry box below. Once we have information on what's required, including any helpful specifications of your picture or room, we'll provide you with a free, no-nonsense, no-obligation quote on our hanging service.
Step 2. We'll come out to you, analyse your space and picture before our fine art professionals go about hanging and installing your picture or artwork efficiently. We can come out to Brisbane, Sunshine Coast & the Gold Coast.
Step 3. Sit back, relax, and enjoy! There are not many things quite like a perfectly hung picture that builds upon your environment's aesthetic. Whether you're curating a professional art exhibit or hanging family portraits in the home, you can be confident that you'll receive high-quality, professional, hanging with us.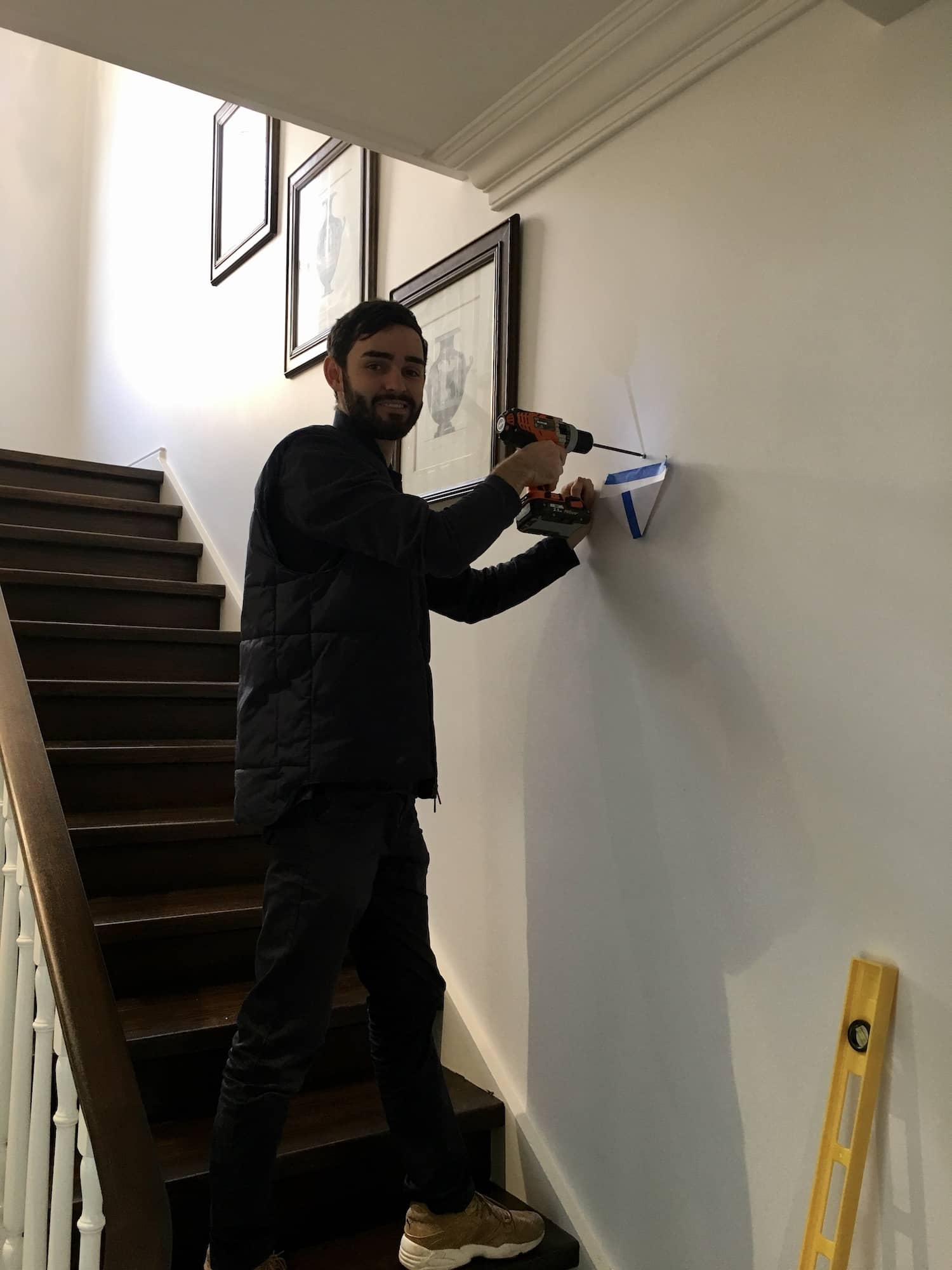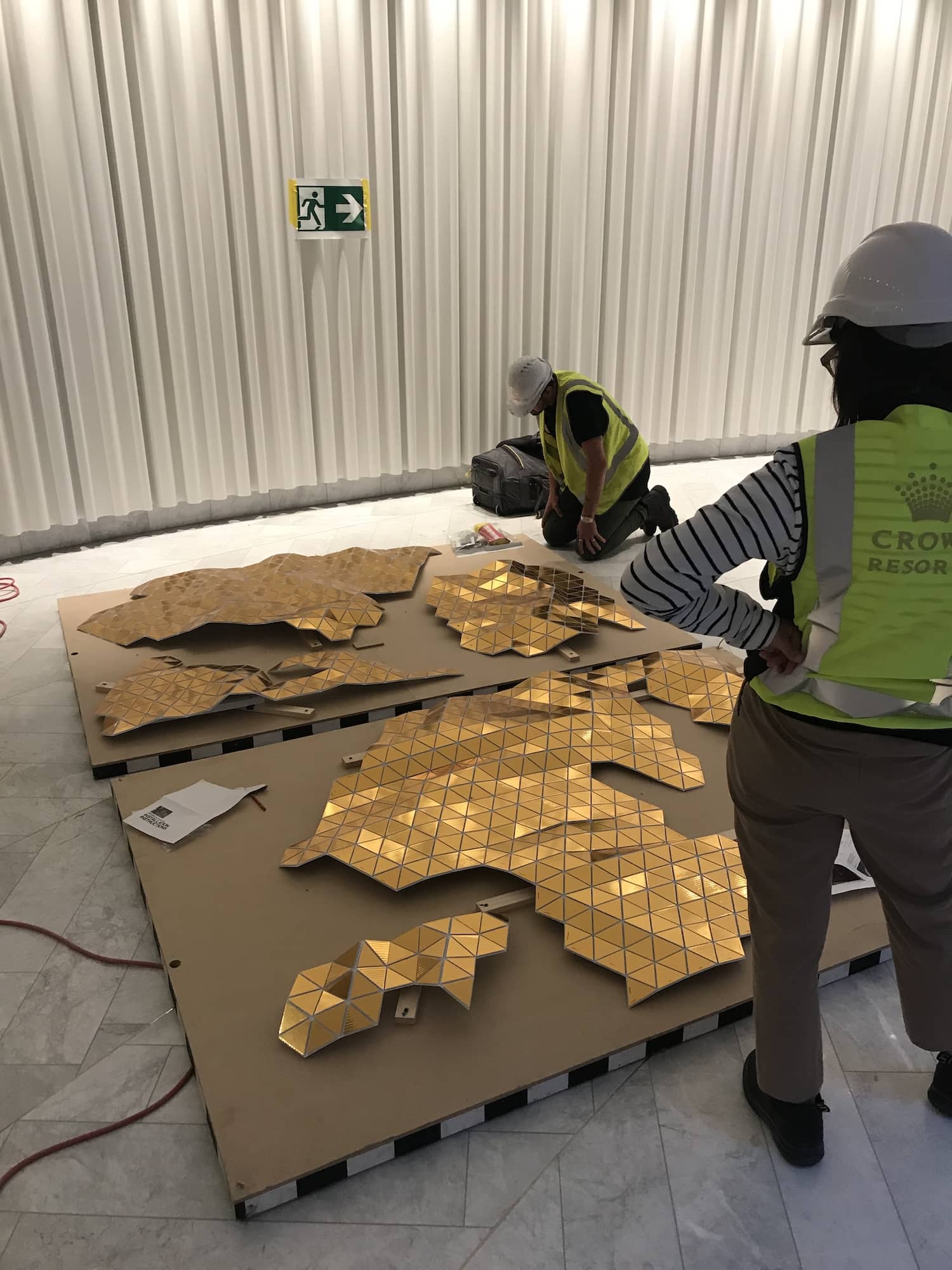 Our Picture Hanging Brisbane Guarantee
When you enlist the services of Professional Picture Hanging, you're enlisting the best.
Our team will arrive on time, listen to your concerns, and offer considered, expert advice on how you can best maximise your space through the proper hanging of your picture or artwork. We'll consider the piece itself, your colour scheme, the personality of the area, any cohesive furniture and more, before hanging your piece to your desire.
We're clean, we're tidy, and we use dust catchers to ensure there is NO mess left behind. Need a TV hung? No worries, we also offer our TV Hanging Brisbane service to any and all Brisbane locals.
Frequently Asked Questions
How Much Will a Picture Hanging Service Cost in Brisbane?
The cost of hanging your artwork or picture will depend on the size of your piece, the scope of the project and any transportation requirements. In saying this, we're competitively priced against other professional art installers in Brisbane.
We will be happy to give you a quote upon completion of our contact form, or, if you prefer, we can provide a quote immediately over the phone.
Our art hanging service comes complimentary with placement advice to help you get the most out of your space. We'll offer suggestions on how to match different shapes, shades and sizes within a room whilst considering the cohesion with your surrounding furniture, natural lighting, and personality of the environment. Our inspiring design considerations will help you give your business or home the presence it is so capable of, dropping any visitors jaws to the floor immediately upon arrival.
Can I Hang Pictures in a Rental in Brisbane?
If you're wondering whether you can hang pictures in your rental property in Brisbane, the answer is, it depends. Check with your landlord or property manager to see if there are any restrictions on what kind of pictures you can hang. Some landlords may not allow anything to be hung on the walls, while others may have specific guidelines about size, type, or placement of pictures. Once you've got the go-ahead from your landlord, it's time to start shopping for some artwork!
Can You Hang a Heavy Picture on Plaster Board or Uneven Walls?
At Professional Picture Hanging, there's nothing we can't do. We believe there is a solution for everything. Our professional team of picture hangers in Brisbane have years of experience in difficult installations and are sure to meet any challenge head-on.
Can You Come and Hang My Pictures Today?
Absolutely! We offer the most stress-free, seamless picture hanging services in Brisbane. We do plenty of art installs per day, and most of the time, our team can fit you within the same or next day. We're able to offer our services across Brisbane, the Sunshine Coast & the Gold Coast.
How High Should I Hang My Artworks?
There's no definitive answer to this question - it really depends on your own personal preferences and the overall aesthetic of your home. However, there are a few general guidelines that you might want to keep in mind when deciding how high to hang your artworks. Generally speaking, artworks should be hung at eye level, or slightly above. This will ensure that they are easily visible and can be appreciated fully. Of course, if you have very tall ceilings, you may need to adjust this rule accordingly! Another thing to consider is the proportion of the artwork to the wall space. If you have a large piece of art, it may look best if it is hung relatively high on the wall so that it doesn't overwhelm the space. Conversely, smaller pieces can be hung lower down, closer to eye level. Finally, think about how the artwork will interact with the rest of your décor. If you have other items on the walls (such as shelves or photo frames), you'll need to take these into account when deciding on the perfect spot for your artwork. There are no hard and fast rules, so ultimately, it's up to you! Our team will work with you, provide advice, and find the best solution for your artwork and space.
How Long Will It Take to Hang Pictures in My House?
From crumbling walls to electrical cabling, many things can influence how long a job will take. As a rough guide, 10 average-sized artworks can be hung per hour. This will be made easier if you've cleared the surrounding furniture prior to our visit and have already come up with ideas as to where you want your picture hung.
Can You Help Me Choose Where to Hang My Artworks?
Our team of experts can help you choose the perfect spot for your artwork. We'll take into account the size and shape of your space, the lighting, and any other factors that will impact the look of your art. We'll work with you to find a location that highlights your artwork and makes it look its best.
What Other Services Do You Offer?
We're pleased to present a range of services, including art placement, art installation, art transportation, mirror hanging, mobile picture framing and more. These services are available for all locals!
We're extremely proud to provide the best picture hanging services in Brisbane; once we're done, we're confident you'll agree that there's an art to it. If you're not satisfied with the end result, we offer a 100% money-back guarantee – that's how confident we are in our skills. As local enthusiasts of the Brisbane art scene, we take immense pride in our work and love helping happy customers enjoy perfectly designed results. Enquire today!