Mirror Installation & Hanging Services
Are you after a professional, diligent, and easy mirror hanging or installation service? Here at Professional Picture Hanging, we're the experts in all things hanging, installing, and mounting mirrors. Our exceptional range of services extends across Sydney, Melbourne, and Brisbane, and is applicable in both commercial and residential settings.
Whether you're just getting around to hanging a mirror in your home, or you're fitting out a new commercial space, when it's time for safe mirror installation, your best bet is to turn to the experts. We have extensive experience in handling very large mirrors and are especially skilled in tight access areas such as stairways or hallways in a home. With us, you'll never have to fear about smashed glass and a wasted investment ever again – we're dependable, skilled art enthusiasts who can hang and install mirrors of all shapes or size.
As a team of artists (and perfectionists), we pride ourselves on delivering the straightest, safest, and most professional service around, free from stress and fuss. We're not just a handyman service, we're art professionals with a passion for creativity and expression. Looking for the best in the business? Give us a call on 0491491029.
At Professional Picture Hanging, there's no mirror too heavy or wall type that we can't deal with. We treat each mirror with the utmost care and take pride in making sure your mirror is perfectly hung and installed. As art professionals ourselves, we have a thriving passion for a well-designed space accompanied with stylish accessories and will go the extra mile to make sure that your mirror is hung at the correct height, with the right equipment to ensure maximum safety.
We understand the particular methods needed to ensure a safe, secure, and stylish mirror installation, taking the stress away from the process. Our installation methodology considers the reflections created by the mirror, it's fit with the aesthetic of your space and the overall practicality of the mirror.
Ready to book your hanging service?
How Does It Work?
Step 1. Submit your enquiry – either give us a call or leave your details below and we'll get back to you. Once we have a bit of information on what's required, we'll provide you with a free, no-obligation quote for our mirror hanging service.
Step 2. We'll come to your home or office and assess the space, hanging your mirror to your specifications both safely and efficiently. We can also install the mirror for you.
Step 3. Enjoy! There's nothing quite like a perfectly hung mirror. Whether you're fitting out a commercial space or sprucing up your home, we're confident that you'll be extremely pleased with our high-quality, mirror hanging services.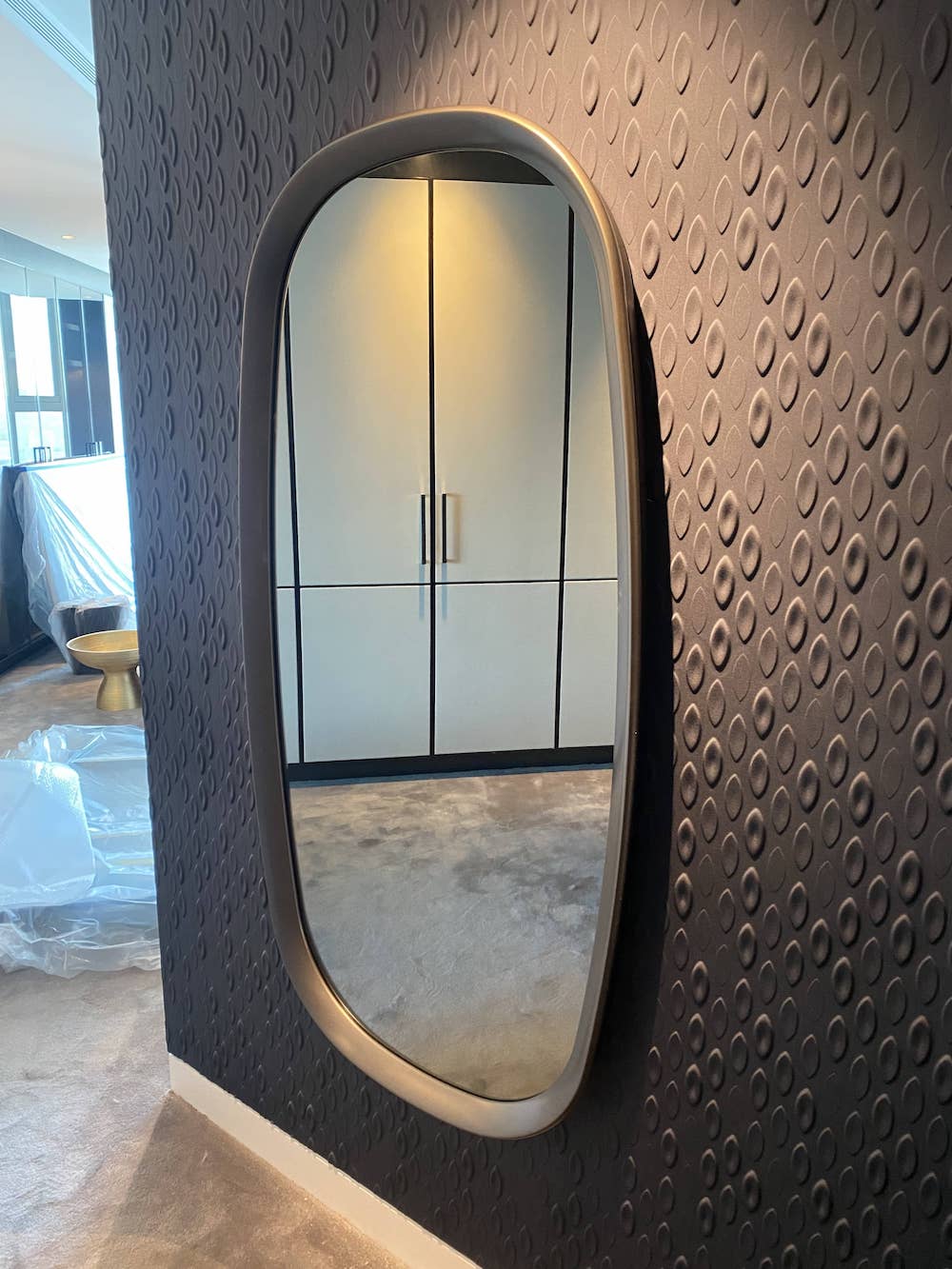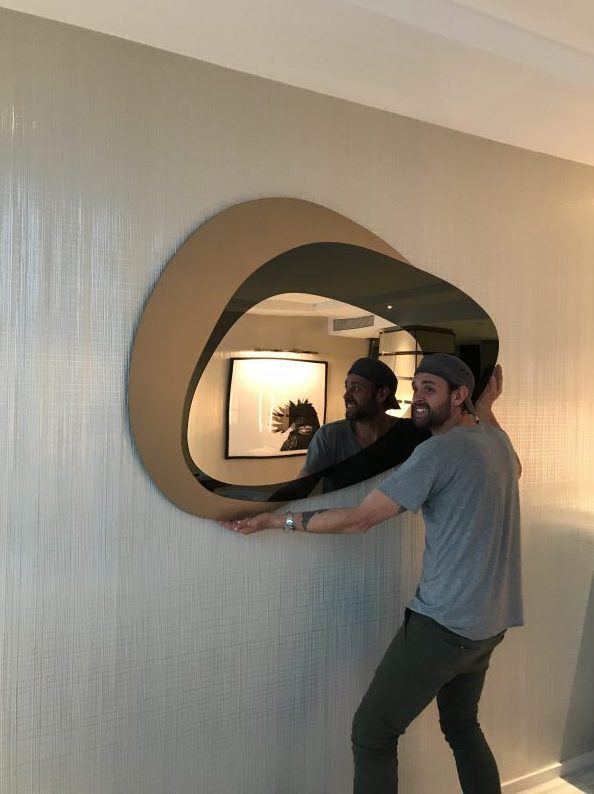 Placement Advice
Not only can our amazing staff make sure your mirrors are hung safely, but we can also offer exceptional, valuable placement advice. We have experience in countless residential and commercial settings, as well as art galleries across Sydney, Melbourne, and Brisbane, and are able to provide expert advice on where and how to place your pieces in accordance with lighting, aesthetic, and practicality. We'll help you discover the perfect area to place your mirror, and how you can match different shapes, shades, and sizes within a room, taking into account the accompanying furniture and colour scheme.
What fittings will your mirror need to keep it on the wall day in day out? What type of screws need to be used? How high should the mirror go up on the wall? Our expert team will be able to tailor your mirror hanging needs perfectly to your specific situation. Our hope is that our inspiring hanging options, passion for design and artistic knowledge will be able to give your home or business the style it so craves.
Frequently Asked Questions
How Much Do Our Mirror Hanging & Installation Services Cost?

The cost of having your mirror hung and installed will depend on the scope of the project, the size and weight of the mirror and transportation requirements.

Please also understand we are art industry professionals, not a handyman service. In saying this, our prices are competitively priced compared to other professional art installers across the country.

We're happy to give you a quote upon completion of our contact form, or, if you prefer, we can provide a quote immediately over the phone.
What Other Services Do You Offer?

Professional Picture Hanging are expert art professionals who have a considerable amount of experience in the styling, framing, and handling of art. We're pleased to present a range of services, including picture and art hanging, art placement, mobile picture framing, mirror hanging, mirror installation, and art transportation. We offer these services from the capital cities of Melbourne, Sydney, and Brisbane!

Our team have years of experience in mirror hanging and installation, and pride ourselves on doing an exceptional job, every time. You can expect your mirror to be fitted with the right fittings, installed with top of the range screws and be 100% straight and level.

We're clean, we're tidy, we're happy to advise, and we'll give you the best hanging service you've ever had! Oh, and we use dust catches to ensure there's ZERO mess left behind. That's why we offer a 100% money-back guarantee if you're not satisfied. We're very proud of the hanging and installation service that we deliver – once we're done, we're confident that you'll agree; there's an art to it.
Can You Hang a Heavy Mirror on Plaster Board, Crumbly And/or Uneven Walls?

Absolutely - there is a hanging solution for almost every scenario! Our professional mirror and picture hangers and team have years of experience in delivering difficult installations - there is little we cannot do when it comes to hanging mirrors or artworks.
I Have a Large Mirror That Needs Two People to Lift. Am I Able to Assist You in Lifting It onto the Wall to Save Being Charged for a Second Handler?

Within reason, and if we deem it safe, yes, we are happy for you to take over the assist art handler role.
How Do I Book a Professional Mirror Hangers Service?

You can book any of our services through our contact page. When making a booking or requesting a quote, please include your location, your chosen service, the rough weight and size of your mirror or artwork and your wall type. Any other information you believe to be helpful can also be entered on this form. Thank you!