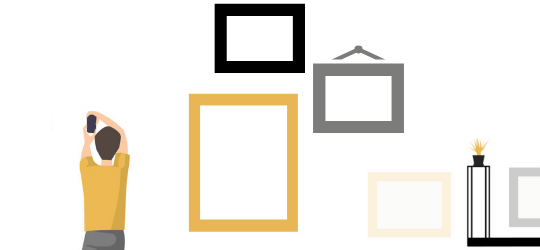 Hanging pictures in a rental: Is it allowed? Can you hang artwork if you're leasing? Are tenants able to create new holes to hang pictures?
Yes – in most cases, tenants are allowed to hang pictures in rental properties. Most landlords will see hanging pictures as a 'minor' alteration to the rental property and permission is typically granted. However, you will need to discuss these alterations with your landlord prior to hanging anything on the walls. What's more, you'll need to make sure that these 'minor' alterations are just that! While hanging a picture may seem simple enough, you'd be surprised to learn just how many DIY home decorators have found themselves trying to re-plaster a wall after a failed artwork hanging attempt.
As our name suggests, Professional Picture Hanging are the mirror and picture hanging experts. We offer same-day, picture and artwork installation services across Sydney, Melbourne, and Brisbane. Having hung our fair share of pictures and artworks, we're here to outline whether or not you should be hanging pictures as a tenant and how to hang pictures in an apartment of a rental provider without causing any damage to the rental property.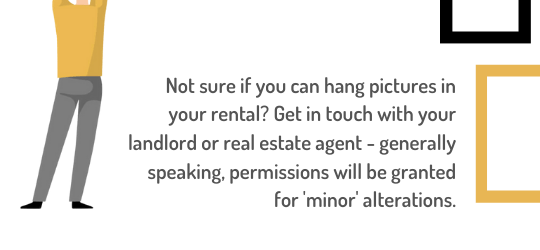 Can

Tenants Hang Pictures?
Generally speaking, yes, hanging pictures in rental properties is allowed. There are no set rules specifically governing what renters can and can't do regarding hanging pictures in most states. Each landlord will have their own regulations and renters are wise to comply with these rules – otherwise, it may be hard to get back the bond when it comes time to move on.
When you're renting, the general rule is that you should be leaving the property in the same way that you found it from the rental provider. Aside from general, acceptable wear and tear, renters need to receive permission from their landlord before making any alterations, including attaching picture hooks to the walls.
Depending on the rental agreement you have with your rental provider, you can approach the landlord directly or communicate through the real estate agent to ask for permission to make alterations.
Generally, if permission is granted by the landlord, real estate agent, or in your rental agreement, the renter needs to pay all expenses. Occasionally, the landlord may offer to pay for some materials or labour if they deem the alternations value-adding additions to the property. The exception to this rule came into effect in Victoria last year. In Victoria, according to new laws, renters no longer need to ask for written permission to make minor alterations, like nailing a picture hook into the wall. However, they are still obliged to restore the property to its original condition when they move on. This includes tasks like gap filling at rented premises.
So now we've answered the question: "Can you hang pictures in a rental property?" let's move on to how to hang pictures in a rental property.
Hanging Pictures in a Rental: Your Options
So, are you allowed to hang pictures in a rental? Our general advice: yes, you can, as long as you've got written permission from your landlord. Below are a few options to hang pictures in a way that won't ruin the walls.
1. Nail Free Solutions
Picture hanging strips and nail-free hooks are available from most hardware shops or through various online retailers. If you've got a series of small pictures or photos to hang, these nail-free picture hanging solutions will work. Nail-free hanging solutions usually come in various shapes and sizes suitable for multiple types of picture frames; just beware of the weight restrictions. Nail-free hooks and Velcro hook-and-loop strips will not be able to hold the weight of heavy artworks or mirrors on any feature wall.
2. Wall Mounts
Have a picture or artworks that are medium to large? Hanging these pieces may mean that putting a hole in the wall is unavoidable. If you have permission to go ahead with minor alterations, using wall mounts is a relatively simple way of hanging your pictures. Supporting large structures, may require a drill for installation. While concrete walls are a safe bet, it may not be suitable for plaster or stud walls.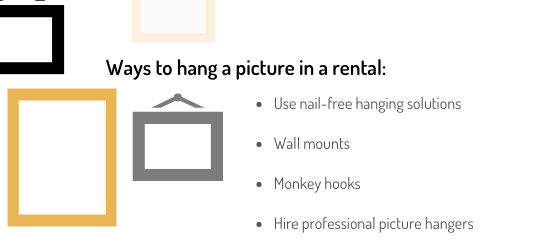 3. Monkey Hooks
Monkey hooks are J-shaped wires that don't need an anchor and are ideal for pictures with wire backings or tabs for hanging. These hooks can take a surprisingly heavy load of up to 20kgs each; however, if used on a plaster wall, monkey hooks are not suitable on sloping or uneven wall surfaces.
4. Call In the Professionals
Let's be real – hanging artwork across your property – rented property or otherwise – is not easy! It's difficult to know which are supporting walls, and whether walls are plaster, stud, or drywall. Knowing what type of surface you're dealing with makes a big difference to which mechanism is best suited to hanging your pictures, photos, and mirrors.
A stud wall, for instance, has supporting wooden panels laid out at intervals to give it structure. Nailing a hook directly into the stud will provide the most support for any hung pictures; however, most of us will not be able to accurately identify a stud wall and where the supports lay.
Booking in with a team of professional picture hangers takes the stress away from hanging pictures in rentals or owned homes. An expert picture hanger will be able to help you choose where the picture is hung, provide the right equipment, safely hang the picture, wont get you in trouble with your rental provider, and make sure the hanging solution is going to last for years to come.
Book Professional Picture Hanging Today
So, there you have it: It is possible to hang pictures in your rented property – all it takes is a little bit of planning and foresight.
Professional Picture Hanging provide Australia's leading artwork hanging service. Forget damaged walls, re-plastering sections and search for a stud; it's time to leave it to the professionals.
We offer same-day services to expertly and efficiently hang multiple pictures in a short time frame, across residential, commercial and industrial settings. To book the Professional Picture Hanging Melbourne residents love, contact us online or on 0491 491 029 to get a free quote.