Professional Hanging in Melbourne
Have you been searching far and wide for the most professional, diligent, and seamless picture hanging service Melbourne? Look no further than Professional Picture Hanging, the Melbournian experts in all things hanging, framing, installing and mounting artworks, mirrors, or pictures. Our exceptional picture hanging service is applicable in both commercial and residential settings around Melbourne.
Whether you're hanging up your children's artworks around the home or curating the newest collection in an art gallery at Burwood Road, your best bet is to turn to the professional hanging experts. No job is too big, or too small for our passionate, dedicated team. As a team of artists ourselves, we pride ourselves on delivering the straightest, safest service without any fuss. Having worked in as many galleries as we have, we can guarantee that we'll find the perfect picture hanging solution for your space.
We're not just a handyman service, we're artists with a passion for creativity. And there's an art to the proper hanging of pictures. If you're looking for faultless picture hanging solutions Melbourne, call the best in the business on 0491491029 today! We'll be out to you, hanging your pictures in no time.
Melbourne's Picture Hangers
When it comes to picture hangers Melbourne, there's no one better than Professional Picture Hanging. Our experience in the gallery, hanging and framing artworks has afforded us the niche skill of knowing exactly how and where to hang your pictures to experience maximum benefits. Moreover, as local enthusiasts of the Melbourne art scene, we pride ourselves on doing an exceptional job every single time, and you can expect your pictures to be fitted with the right fittings, installed with top of the range screws and to be 100% straight and level.
We'll help you work out the best placement for your picture within the desired space, providing advice on how to match different shapes, sizes and shades within a room whilst being considerate of cohesion with furniture and lighting. What fittings will your super heavy picture frames need to keep it on the wall, day in day out? Our inspiring design options can give your home or business the style it deserves.
How Our Picture Hanging Service Melbourne Works
Step 1. Submit your enquiry – either give us a call or leave your details below and we'll get back to you. Once we have information on what's required, we'll provide you with a free, no-obligation quote on our hanging service.
Step 2. We'll come to you and analyse the space and picture before our fine art professionals promptly hang and install your picture efficiently.
Step 3. Enjoy! There's nothing quite like a perfectly hung picture that adds to your settings aesthetic. Whether you're hanging your family portraits or curating an art exhibition, we're confident that you'll be extremely pleased with our high-quality, picture hanging Melbourne service.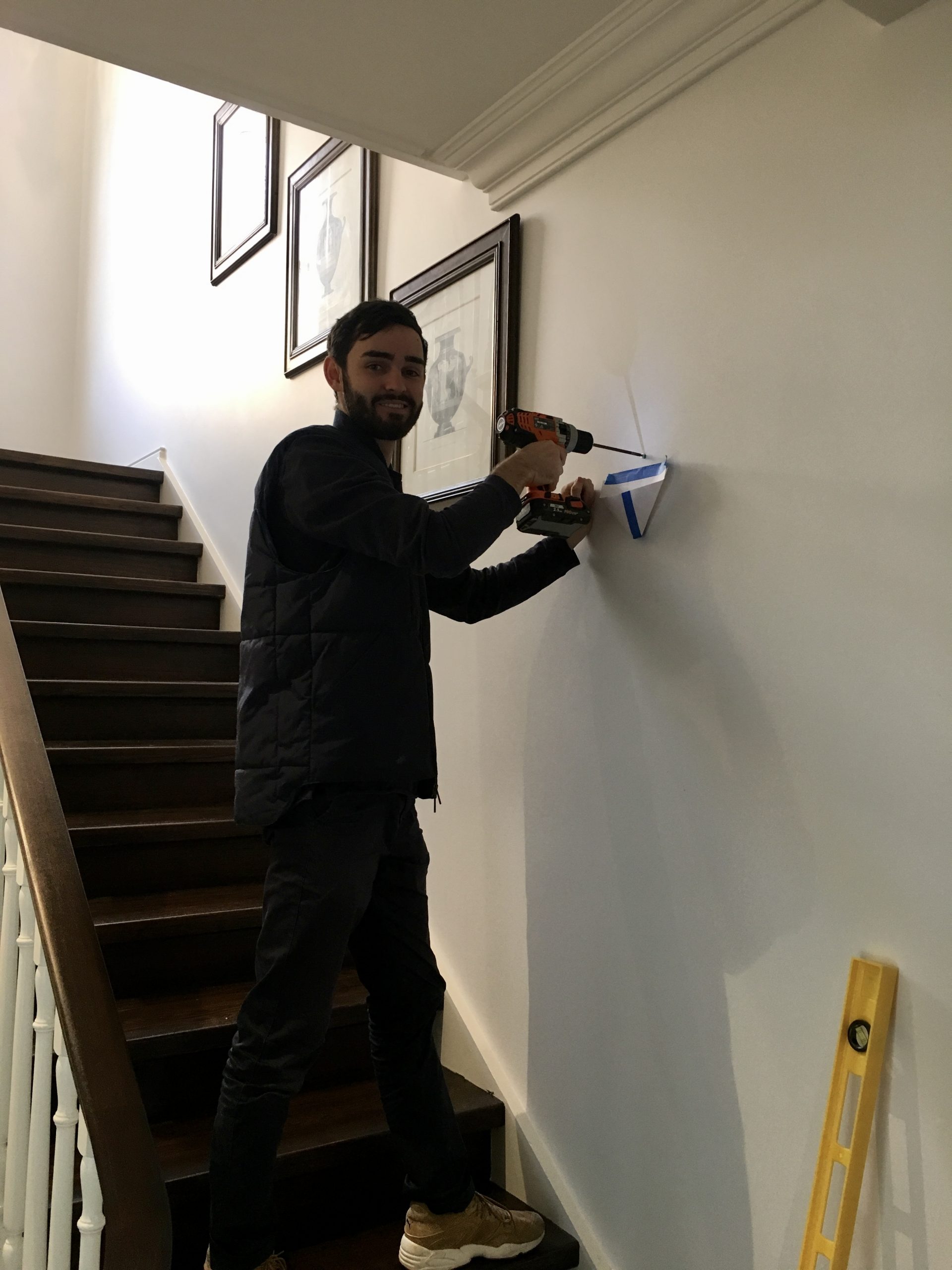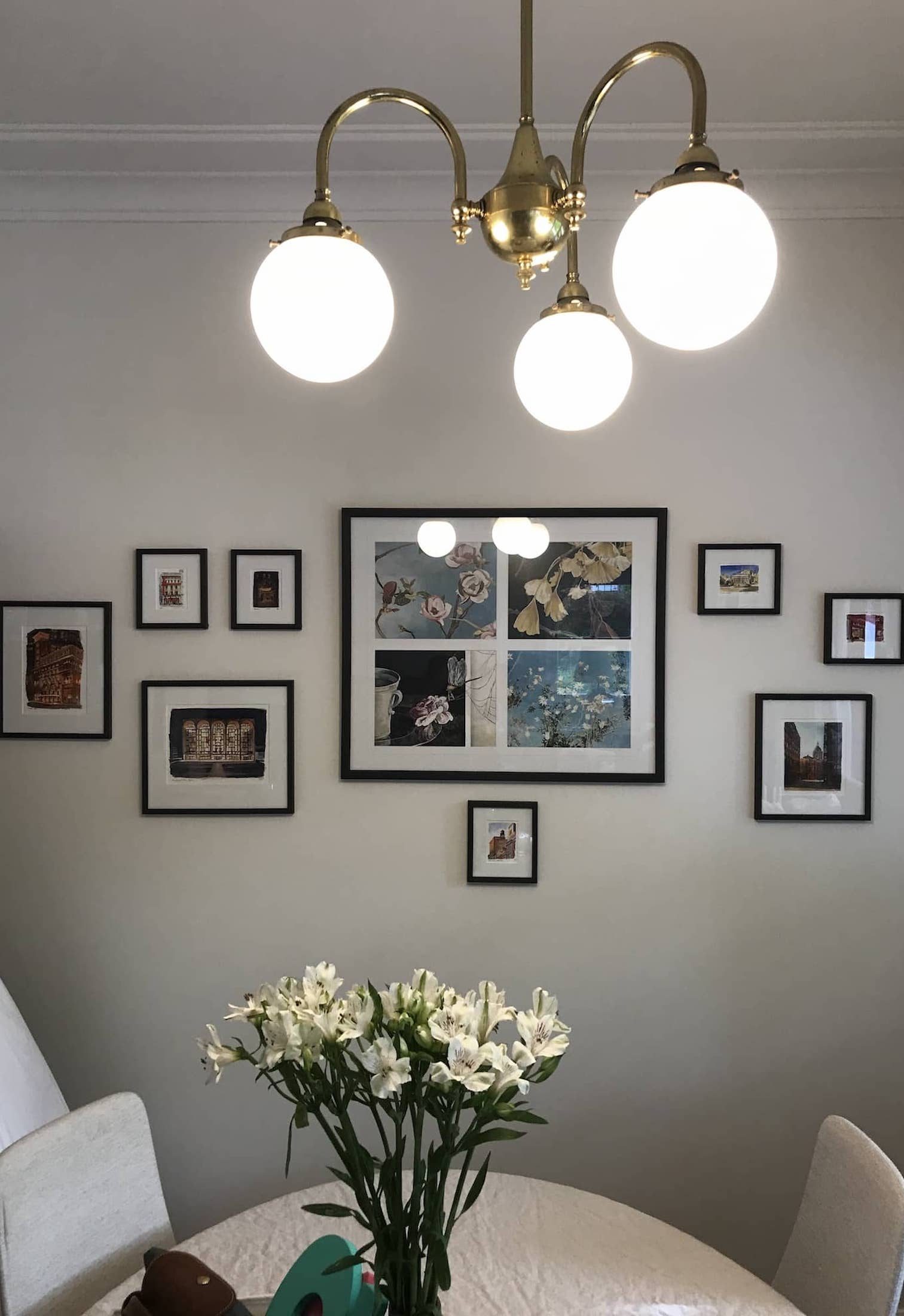 Our Guarantee
So, what should you expect from our Melbourne picture hanging services? Having been in the picture hanging and art business for years, we've developed an eye for artwork and understand how to install and hang pieces effectively to maximise the design potential of your space. As the artistic and cultural hub of Australia, Melbourne deserves nothing less than the best when it comes to picture hanging. Our professional team can help you choose the right location, height, and environment to hang your pictures.
Our team will arrive on time, listen to what you need and advise on how to achieve that. We'll then make sure your picture or artwork is perfectly hung to your exact specifications. We're clean, we're tidy, and we use dust catches to ensure there's ZERO mess left behind. That's why we offer a 100% money-back guarantee if you happen to not be satisfied with the end product. We're very proud to provide the picture hanging solutions locals' trust; once we're done, we're confident you'll agree, there's an art to it.
Frequently Asked Questions
Can You Come and Hang My Pictures Today?
Nine times out of ten – yes! We are proud to offer the most seamless picture hanging services in Melbourne. We do plenty of art installs per day, and typically, our professional picture hangers can fit you in within the same or next day. Efficiency like you've never experienced before.
What's the Best Way to Hang a Heavy Artwork?
Here are a few things to keep in mind when hanging a heavy artwork
• Make sure the wall you're hanging the artwork on is strong enough to support the weight.
• Use the proper hardware for the job, such as D-rings or hooks rated for the weight of your artwork.
• Hang the artwork at the correct height using a level.
• Use professional picture hanging services to be sure your artwork is hung correctly and safely. The cost of replacing a frame or art work is always more than hiring a professional to get the job done properly.
How Much Will It Cost to Have My Pictures Hung?
The cost of hanging your pictures or artwork will depend on the scope of the project, the size of your picture and transportation requirements. In saying this, we're competitively priced against other professional art installers in the area.
Please also understand we are art industry professionals and not a handyman service. We will be happy to give you a quote upon completion of our contact form, or, if you prefer, we can provide a quote immediately over the phone.
Can You Hang Artwork Without Damaging the Walls?
One of the most common questions we get about our picture hanging solutions is whether or not it's possible to hang pictures without damaging the walls. The answer is yes! There are a few different ways to do this, and we'll go over some of the most popular methods below. Adhesive strips: Adhesive strips are a great way to hang artwork without damaging your walls. They come in a variety of sizes and strengths, so you can find the perfect option for your needs. Just make sure to follow the instructions on the package carefully so you don't damage your artwork. Velcro: Velcro is another popular option for hanging artwork without damaging your walls. It's easy to use and comes in a variety of sizes, so we can find the perfect option for your needs. Nails: Nails are an option for hanging artwork, but they can damage your walls if not used properly. If you decide to use nails, be sure to use the proper type and size for your needs and hammer them in.
Can You Hang a Heavy Picture on Plaster Board, Crumbly And/or Uneven Walls?
We sure can! – there's a hanging solution for almost every scenario! Our professional team of picture hangers have years of experience in difficult installations - there is little we cannot do when it comes to hanging artworks.
How Long Will It Take to Hang Pictures in My House?
There's often a number of things to consider when hanging pictures. From crumbling walls to avoiding electrical cabling, many things can influence how long a job will take. As a rough guide, 10 average-sized artworks can be hung per hour. This will be made easier if you've pre-emptively cleared the surrounding furniture and have already come up with ideas as to where you want your picture hung. Professional picture hanging like you've never experienced before.
How Much Weight Can Drywall Hold Without a Stud?
Drywall is designed to be lightweight and easy to install, but that doesn't mean it can't support a good amount of weight. Generally speaking, 1.2cm thick drywall can hold up to 10kg without a stud, while 2cm thick drywall can hold up to 20kg or more. Of course, we always operate with caution and use a stud whenever possible.
What Other Services Do You Offer?
We're pleased to present a range of services, including art and picture hanging services, art placement, mobile picture framing, mirror installation, mirror hanging, and art transportation. We offer these services to all Melbourne locals!
Should All Pictures Be Hung At the Same Height?
There's no one answer to this question - it depends on your personal taste and the overall aesthetic you're going for in your home. Some people prefer to hang all their pictures at the same height, creating a clean and uniform look. Others like to mix things up, hanging some pictures higher or lower than others for a more eclectic feel. There's no right or wrong way to do it - it's all about what you enjoy looking at!