Professional Art Hangers in Newcastle
Coming soon to Newcastle and the Central Coast, Professional Picture Hanging are the leading artwork installers and professional picture hangers in Australia. Choosing the ideal art pieces for your home or business is already a challenge in itself – when it comes time to ensuring they are perfectly hung, call in the experts at Professional Picture Hanging Newcastle.
Our professional hanging service is offered by a team of artists who have experience across installing perfectly hung pictures within galleries, residential estates, commercial buildings, and offices. Whether you're curating the next installation at The Newcastle Art Gallery, fitting out your new build, or finally getting around to getting the Employee of the Month frames up, it pays to work with a team of experts who know what they are doing. Say goodbye to dodgy, short-lived hung picture hanging, and hello to safe, long-lasting, perfectly straight pictures in your home, office, café, hotel, or gallery.
The Art of Picture Hanging
An art hanging service is so much more than a handyman's job. Servicing Newcastle, its surrounds, and parts of the Central Coast, Professional Picture Hanging provide a comprehensive service including transporting, framing, and hanging artworks across residential, commercial, and industrial spaces. We also offer custom picture frames for your new art works. Specialising in hanging and installations, our creatives can also provide art placement advice, hanging equipment, and professional decoration services across the Newcastle region.
With a team now based in Newcastle, NSW, we can often provide same-day services for anyone looking for professional picture hanging services. Between art gallery exhibitions, office artwork installations, hotel art fit-outs, and residential family tree portraits – no job is too big or small for the Professional Picture Hanging team.
Book now for perfectly hung pictures
How does it work?
Step 1. First things first, submit your enquiry for your picture hanging service. Leave your details in the enquiry box below or call us directly. Further information about the art itself or the space is always helpful. From there, we'll provide a free, non-obligatory quote.
Step 2. We'll come out directly to complete the project.
Step 3. Enjoy your room after a fantastic job with its newly hung pictures.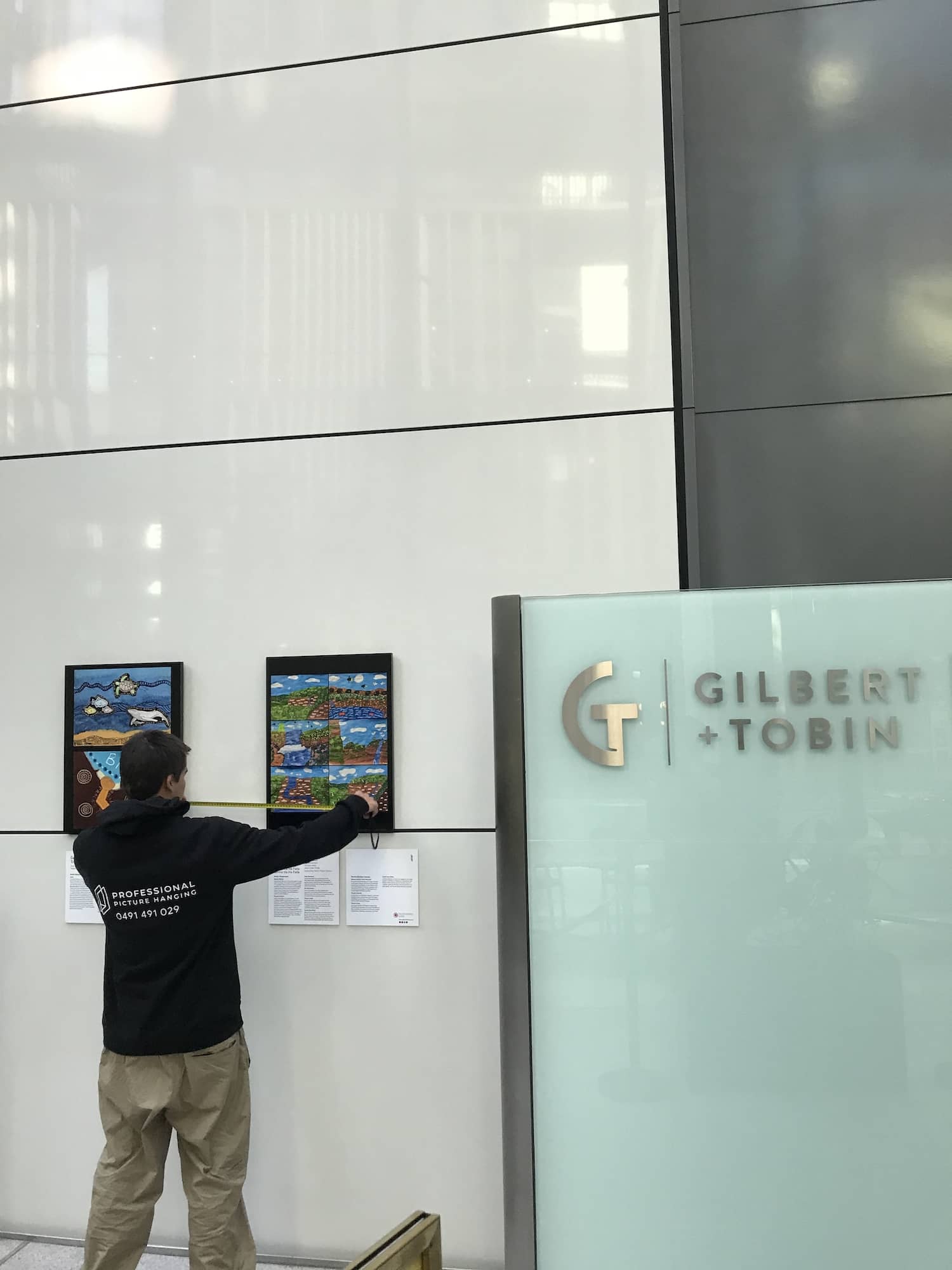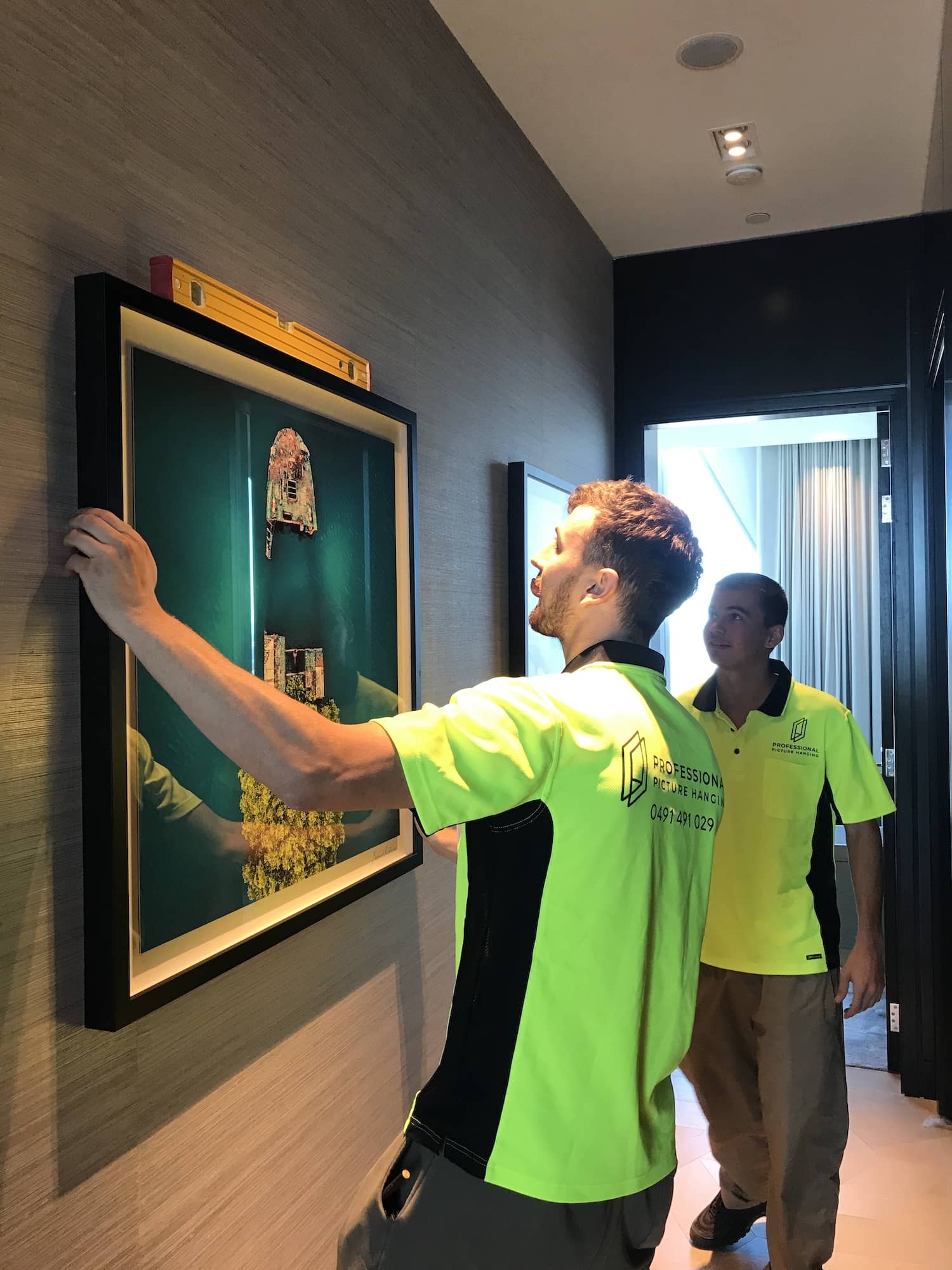 Our Picture Hanging Newcastle Guarantee
Choosing Professional Picture Hanging means choosing the best in the business.
We take all areas of our work seriously and work professionally. We will arrive on time, assess your project, listen to your concerns, and offer our expert advice on where and how your art should be hung. Not only will we look at the piece itself, but also the colour scheme of the room, the chosen area, and cohesive interiors.
We leave NO mess behind; we work clean and tidy up before we leave. Need to hang or mount other items in your home or office? We've got you covered.
Frequently Asked Questions
How much will a picture hanging service cost in Newcastle?
Prices are determined by a wide range of factors including the size of the piece, the scope of the project itself, and any transport requirements. We guarantee competitive prices against other professional picture installers in the Newcastle area and the Central Coast.
Can you come and hang my pictures today?
90% of the time we can – yes! We do plenty of art hanging each day, generally speaking, our picture hanging experts in Newcastle can fit you within the same or the next day.
Why should I pay someone to hang pictures in Newcastle?
If you have multiple precious artworks, art installations, or large, heavy mirrors, it makes sense to hire a professional to hang your pictures for you. Why? Heavy, bulky, or even regular pictures can cause damage to your property if hung incorrectly.
Can you hang artwork without damaging the walls?
Yes, hanging pictures without damaging the wall is no problem for our picture hanging experts in Newcastle. There are multiple ways to hang a picture without damaging the wall – we can provide adhesive strips, Velcro strips, and other hanging hooks that will ensure your pictures are perfectly hung without causing any damage to the property.
Do you offer any other services?
Our professional picture hanging experts in Newcastle and parts of the Central Coast come with a broad range of expertise in art transportation, framing, and hanging. We can also help you with your mirror or TV.
How long will it take to hang the pictures?
As a general estimation, a professional picture hanger can hang approx. 10 average-sized artworks per hour. This can vary depending on the wall materials, the pictures/artwork, and placement. One way to speed it up? Make sure to have cleared the surrounding area of furniture and other obstacles.