Hanging pictures and artwork in small spaces and apartments presents a unique set of challenges. From curating the best possible layout, to showcasing key pieces, to utilising the space to ensure your artwork and pictures don't encroach on the space and make things feel smaller than they are.
In small spaces, a considered approach to picture placement and art hanging can dramatically improve the aesthetic of compact living or working areas. It goes beyond finding the right spot on the wall to hang, and extends to curating an ambience that extends the visual space and infuses the unique personality of your pictures and art into your space.
To better understand this fine balancing act, this article is tailored for those grasping with special constraints. In this article, we'll explore the hanging techniques that can be used to make the most of small spaces, make a bold statement, and leverage your art and pictures for maximum impact.
Table of Contents
Picture Hanging Tips for Small Spaces and Apartments
– Maximising your space
– Make a statement in small spaces
– Leveraging narrow spaces
– Large art & small spaces
Picture Hanging Tips for Small Spaces and Apartments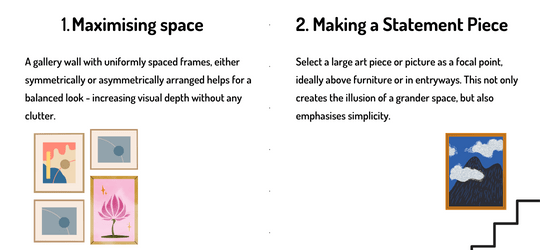 1. Maximising Your Space
Limited space doesn't have to mean limited impact, instead, it comes down to maximising your space to ensure your art becomes a feature, not an encumbrance.
Creating a gallery wall with uniform spacing between frames is a simple way to increase visual depth, without adding clutter. A symmetrical or asymmetrical display can create a balanced and dynamic atmosphere by paying special attention to the arrangement and spacing of frames.
In addition to the size and spacing of your art, the colour scheme and colour blocking of your arrangement can have a significant impact on the overall appearance of the art or pictures. In general, lighter colours tend to create a feeling of openness, while darker colours can be used to add depth and create a feeling of cosiness.
2. Making a Statement in Small Spaces
Making a statement in small spaces can be as simple as choosing a large piece of art or a large picture to serve as a dramatic focal point. This approach to creating a 'feature' piece is especially effective when placed above furniture, entryways, or stairways to transform these spaces into captivating focal points – irrespective of how small the space is.
By drawing focus toward a single point, the illusion of a grander space is created. This effect can be enhanced by reducing the amount of visual clutter in the area around the focal point — much like how artwork is framed with matte borders to accentuate its visuals. For that reason, this method is also ideal for those who value simplicity in their space as only a few well-placed art or pictures are needed to achieve a significant effect.
3. Leveraging Narrow Spaces
Narrow spaces are neglected most of the time for two main reasons: one, space limitations, and two, they don't get much exposure anyway. While both of these reasons are perfectly valid, there are ways to leverage your narrow spaces for picture hanging.
The first way is to go across walls. Instead of viewing narrow spaces as isolated areas, you can combine multiple walls with these spaces into one extended canvas for picture hanging. For example, installing a sprawling series of frames across the corner of two walls can create a sense of fluidity between them and make your space feel more dynamic.
Another solution for making the most of narrow spaces is to think vertically. Using the full height of the wall helps to create an illusion of space, making the decorated area seem bigger than it really is, and is also a good alternative when there aren't long continuous walls in the space.
4. Large Art & Small Spaces
Got a large art piece that you'd like to hang in a small space? Space constraints are the biggest restriction for large art, so the key to hanging them lies in the arrangement of surrounding objects such as furniture, shelves, or even other picture frames.
When fitting large artwork in small spaces, don't be afraid to rearrange your space. Start by finding an area on the wall that can comfortably house the artwork, taking into account the space that will be occupied by framing and borders. Placement for the biggest artwork should always come first, as smaller elements can always be easily repositioned.
Speaking of smaller elements, be sure not to overlap or overcrowd the area around the large artwork. Give it sufficient space to 'breathe' by making use of negative space.
Final Thoughts
Getting the best outcome when hanging art in small spaces is all about finding the right balance between colour and arrangement. A professional picture-hanging service will be able to achieve this balance using their expertise and the right tools for the job.
Professional Picture Hanging is the leading picture and artwork service in Australia. Whether it's a vintage painting or a charming family portrait, we'll work with you to find the perfect framing and picture hanging placement in your home. If you are looking for a reliable way to hang your new piece of artwork, just give us a call, and we'll get it done for you on the same day. As well as picture rail systems, we have art installers across Sydney, Melbourne and Brisbane – we've also now got picture hangers on the Gold Coast, Newcastle, and Byron Bay!