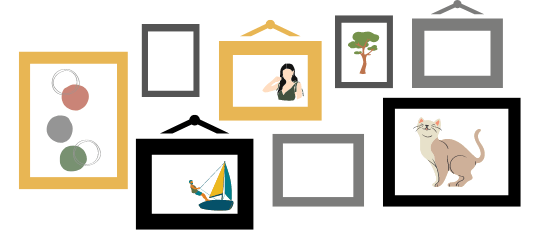 Matching artworks, pictures, and other wall-hanging ornaments within your space is a vital step in bringing all interior design elements together.
Correctly matching wall art and getting the balance right will draw the right attention, providing a more visually appealing space to anyone that steps foot in the space.
Wondering how to match art in a room? Does wall art have to match at all? There's no hard and fast rule to artworks, pictures, and interior design – but there are ways that you can bring all of your artworks together to keep the space cohesive
How to Match Art in a Room
Matching art to a room starts with one simple mantra that should define all your artistic choices – find art that you truly love! Finding a style or medium that you enjoy looking at is the first step to matching art, as the most important pairing factor to art is you.
Finding the first piece of art that matches the colour of your room might work by simple harmony, but the walls of your room are an extension of your taste, and you should give yourself enough time to find something that matches.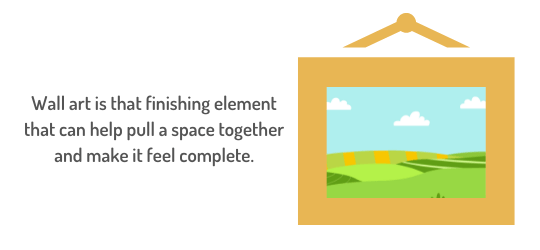 Other than choosing an artwork that you love, there are a number of other factors to consider, including:
1. Choosing Art by Size
A central factor in matching art in your room is the size of the artwork compared to its destination. Buying a massive landscape for a tiny office is not only impractical, but it will also affect the mood of the room when you are in there. Choosing an artwork that is too big for the space will make the room seem cramped and will also take up valuable space for furniture.
On the other hand, choosing an artwork that is too small for a room will make it feel cold and uninviting. Small pictures end up doing the opposite of their intention and draw the viewer's attention to the blank space around it, not your lovely artwork.
Try several different artworks and hanging styles when matching various sizes to rooms. When it comes to how to match art in a room, think about your placement. Keep the room's balance in mind. Are you hanging several works? Smaller is better. Do you want the art to be the focal point? Consider an oversized piece of art.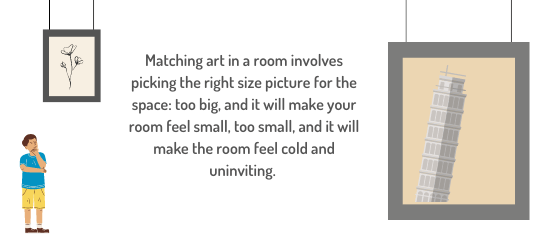 2. Matching Abstract Wall Art
Abstract art is one of the most difficult artistic styles to match. With wild colours and haphazard geometric patterns, abstract work can be an absolute nightmare to match with more pared-back interior designs. The best way to match abstract wall art is to place it against plain-coloured walls. White often works best and highlights the features of the artwork without clashing with the content.
Abstract wall art needs to be able to match the style of your room too. Whether you have designed a modern, minimalist, industrial, or coastal style for your home, make sure it is capable of matching an outlandish abstract artwork. Consider the feeling your room evokes; does your chosen art also reflect that?
3. Colour Coordination
Coordinating your art to match the colour of your room is a commonly used interior design tactic. Complementary colours are those that are opposite each other on the traditional colour wheel. These colours pair well together if you are looking to get two colours, or otherwise, for a monochrome look, you can keep all your art in theme with the colour of the room.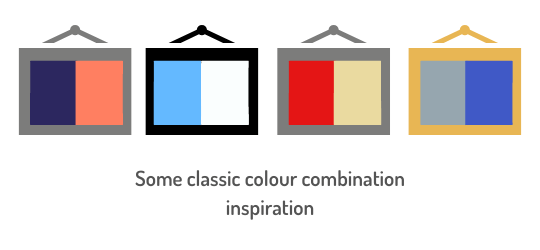 4. Consider What's Already There
How to match art in a room? Consider what's already in there. When selecting the best artwork for your next room, ask yourself whether you are prepared to massively alter the existing space for your art. Several elements may already be at play in your interior design that will help shape your decision, and how you can approach matching:
Existing Artwork: Have you already got artwork or wall hangings in your targeted room? If you have installed anything in the room already, or if there are several works already inside, why not try and find a work to fit within these parameters. Finding art that matches other works will create a cohesive visual flow in the room, making the room feel more complete. Art that stands out too much can make the room feel disjointed. Think about the colours, style, and size of the pieces already in the room.
Furniture in The Room: Existing furniture or other accessories in the destination room can influence the right type of art for the setting. Brightly coloured sofas, chairs, or cabinets can clash with some styles of wall artworks. Furniture can be a centrepiece of its own. You must decide whether you want your artwork or furniture to do the talking in your room, and then you can start looking into matching.
Does Wall Art Have to Match?
Often, we are so preoccupied with finding out how to match art in a room that we forget to ask if it has to match at all! The most important part of any room pairing is ensuring that it fits your definition of matching. If you think that it matches, and like the way it looks, then that is all that matters. What' matches' what is subjective, so make sure to have some fun with it.
Hang Your Perfectly Matched Art
Professional Picture Hanging are the experts when it comes to mounting just about any type of artwork on a wall. Regardless of whether you've made the tough call of what art to match with the room, or you need a hand with placement, we will get your artwork on the wall in no time. From mirror hanging, and canvas hanging, to photo hanging, our state-of-the-art railing systems are perfect for any home. Wondering how to match art in a room? Nothing will match if it's not installed on the wall properly!
For picture hanging solutions across Australia. Whether you're looking for professional picture hanging Sydney, Brisbane, or artwork hanging services in Melbourne, you can get in touch with the experts at Professional Picture Hanging today.