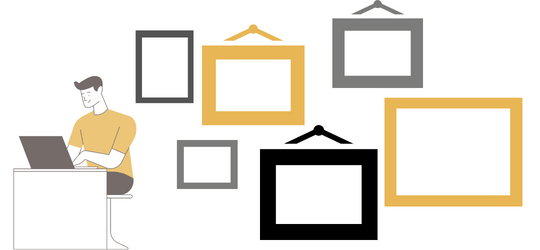 Have you ever entered an office space only to feel completely uninspired by your surroundings? Unfortunately, this isn't that uncommon.
Traditionally, office and commercial spaces have been constructed with thin walls, dull carpets, and bright halogen lights.
Although sterile workspaces are thought to minimise distraction and allow employees to stay focused, the opposite has been proven. In fact, there are quite a number of international studies that have found art in the workplace to keep employees engaged, inspire creativity, and promote social interaction.
There are many benefits to hanging art in the workplace. Within this article, Professional Picture Hanging will outline the main benefits of office wall art.
4 benefits of art in the workplace
1. Inspires creativity
An engaging piece of art can enrich a space and promote creativity. Whether you're a creative production agency or you're selling insurance, creativity in the workplace is crucial. Inspiration in the office helps employees and visitors to stay engaged, connected, and productive throughout the day. What's more, office wall art can provide a positive distraction for those conducting monotonous tasks, keeping them rejuvenated and restored throughout the day.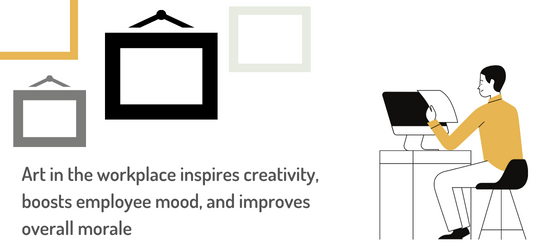 2. Boosts employee mood and performance
Art in the workplace can reduce stress, boost overall morale, mood, and in turn, employee performance.
We all know how stressful the workplace can be. Between tense relationships, tight deadlines, and demanding customers, many employees become cognitively exhausted throughout the average workday. Viewing artwork throughout the day can help employees to refresh, reduce stress, and restore mental energy.
We all know that happy employees = effective employees. If employee morale and mood is boosted at regular intervals throughout the day through art, performance is only going to increase. Studies have shown that those working in environments that are aesthetically pleasing are less likely to experience stress, anger, and frustration in throughout their day to day tasks.
3. Supports brand image
Art in the workplace can be used as a tool to create an environment that reflects and emanates a brand. As an employer, choosing the right office wall art can go a long way in getting outsiders to engage in your brand, employees to soak in company culture, and for you to take ownership of how your business is represented in its headquarters.
Art is a great way to demonstrate a company's history, style, personality, mission, and image. For anyone that comes through the door – employees, clients, potential customers, and partners, office wall art provides a focal point, a statement, or a message.
Communicate your brand's message and keep employees engaged in the company's core values through wall art and non-verbal messaging. Even if it's in the way of art without writing, an aesthetically pleasing working space with office wall art that is in line with the company's brand image helps others to identify with the business, branding, and values.
4. Promotes connection
Art in the workplace promotes discussion and socialisation among employees. Depending on the layout of your workspace, art can provide a focal point of gathering place, encouraging team members to converse, collaborate, and engage.
Office art can help employees to interact and connect with one another, increasing their ability to positively collaborate on projects, and create a positive environment for everyone to work in.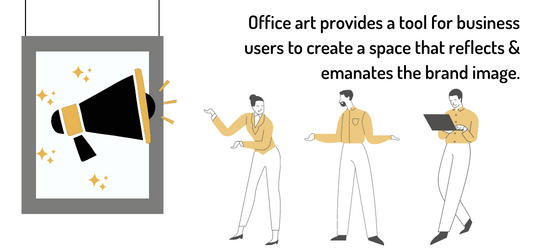 Choosing the right art for your workspace
So, you're sold on putting up some new art in your office, but you're not sure where to start? Professional Picture Hanging Sydney are here to help.
The right art decisions in the workplace will consider content, scale, positioning, and messaging. Consider how you want your art to work in your office – is your main priority to inspire, engage, and promote productivity? Or are you set on using art to communicate your brand's identity? There's no wrong answer here – either way, creating a more personalised and aesthetic space is going to benefit your workplace.
Here are considerations to make when choosing art for the office:
Consider the size and shape of your office
The right colours can influence mood
Large wall art is ideal for large, open spaces
Abstract art invokes imagination and thought
Choose statement pieces for branding
Create a playful and fun environment with colourful artwork
Art can be used as a focal point or between crossroads
Our final tip? Have your office wall art installed by a professional, who will use the right kind of art hanging systems. Having Professional Picture Hanging in to install and hang your wall art will ensure that it is safely hung, and will not damage any of the walls. What's more – our team have experience working in art galleries and curated spaces and can provide expert advice on placement and styling. For more information on getting our team to install your artwork across Sydney, Melbourne, and Brisbane, give us a call at Professional Picture Hanging today.