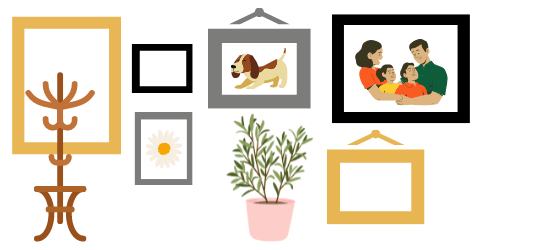 Looking to decorate your home with photos of your nearest and dearest but not sure where to start? Don't worry – you're not alone!
Many people struggle with finding the best places to hang family photos in their homes. There are a few things to consider when making this decision, such as the size and location of the space, the type of photos you are hanging, and your personal style.
The following article will cover the best locations and methods for hanging photos in the family home. With a little planning and creativity, you can display your family's cherished memories in a way that is both stylish and functional.
Importance of Having Family Photos in the Home
Family photos are a great way to keep everyone connected and to remember happy times together. They also help to tell the story of your family's history.
Some families choose to have a professional photographer take their family photos, while others prefer to take their own photos. Either way, it's important to make sure that you have at least some family photos in your home. Here are a few reasons why:
1. Stay Connected
Family photos are a great way to stay connected with your loved ones, even when you can't be together in person. When you look at a family photo, it can help you feel close to the people in the photo, even when they aren't with you – or you're separated by lockdown!
2. Remember Happy Times Together
When you look at a family photo, it can help you remember all of the happy times you've had together. From holidays and birthday parties to just everyday moments, family photos capture all of the special memories you share.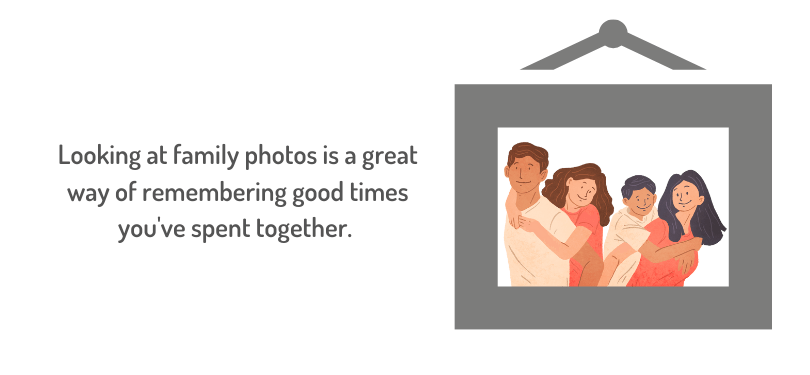 3. Tell Your Family's Story
Family photos also help to tell the story of your family. When you look at a photo from years ago, it can be interesting to see how much your family has changed over time. You may see similarities between members of your family that you didn't notice before.
4. Help You Feel Good
Looking at family photos can also help you to feel good about yourself and your family. Seeing the people you love happy and together can fill you with a sense of warmth and happiness.
5. Family Photos Can Be Passed Down Through Generations
One of the best things about having family photos is that they can be passed down through the generations. Your children and grandchildren will one day appreciate being able to see photos of their ancestors. They may even enjoy looking at photos of you when you were younger.
Best Rooms to Hang Family Photos in the Home
There are a few things to consider when deciding where to hang family photos in your home. Here are a few of the best rooms to display these cherished memories:
Living Room
Dining Room
Kitchen
Hallways
The Home Office
Bedrooms
There are (of course) no hard and fast rules. Hang as many or as few photos as you like – make your home feel complete with family photos that tell your unique story.
Tips For Decorating With Family Photos
One of the best ways to personalise your home and make it feel like your own is to incorporate family photos into your decor. However, if you've never done this before, it can be a bit tricky to know where to start. Here are a few tips to help you get started:
Start with the basics. Don't try to do too much too soon – start with just a few key pieces and build from there. A good place to start is with a family portrait or two, and then add in other photos as you find places for them.
Get creative with displaying your photos. Choose a picture hanging system that can be used to display photos in different ways – from traditional frames and albums to more creative options like wall art or photo collages. Get creative and think outside the box to find ways to show off your photos in a way that fits your personal style.
Use photos to tell your family's story. A great way to use family photos is to tell your family's story through them. Choose photos that represent different stages of your life, and use them to create a visual timeline of your family's history.
Don't be afraid to mix things up. Just because you have a bunch of traditional family photos doesn't mean you can't mix in some fun and unique shots as well. Add in candid shots, black and white photos, or even fun selfies to add some personality to your display.
Keep it updated. As your family grows and changes, so should your photo display. Be sure to add in new photos as you take them and remove any that are no longer relevant. This will help keep your display fresh and up to date.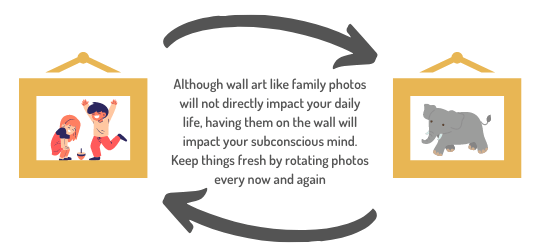 Following these tips will help you create a beautiful and personal display of family photos that you can enjoy for years to come.
Ways to Hang Family Photos Without Drilling Into the Wall
There are plenty of ways to display photos and other artwork without drilling into your walls. Here are a few ideas:
1. Adhesive Strips or Hangers
Adhesive strips are available at most hardware stores and come in a variety of sizes and strengths. They can be used to hang everything from small pictures to large mirrors. Hangers are another option and come in both metal and plastic varieties.
2. Magnets
Magnets are a great way to hang pictures, especially if you don't want to put any holes in your walls. You can use small magnets or even strong refrigerator magnets. Just be sure that whatever you're hanging is not too heavy for the magnet to hold.
3. Command Strips
Command strips are similar to adhesive strips but are stronger and can hold heavier items. They're available in a variety of sizes and strengths, so you can find the right ones for your needs.
4. Picture Rails
Picture rails are a great option if you want to be able to change out your pictures frequently. They come in both wood and metal varieties and can be mounted to the wall with screws or nails. Just be sure that the rail is securely mounted before hanging anything from it.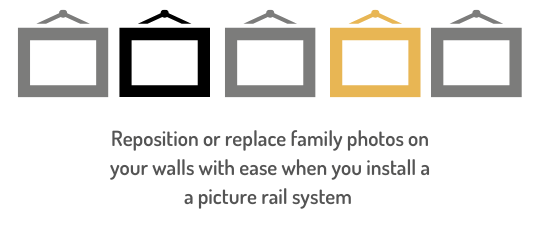 Home Decorating at Professional Picture Hanging
There's no right or wrong answer when it comes to hanging family photos in your home. It's all about finding what works best for you and your space. If you'd like to engage the services of a professional picture hanging to get your family photos up, get in touch with the team at Professional Picture Hanging today – we service Sydney, Melbourne, and Brisbane.
Have fun and happy hanging!