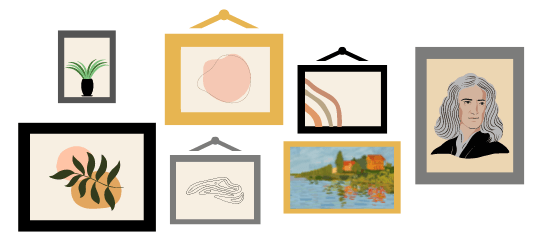 If like most people, you enjoy having art around the house, then knowing how to collect art on a budget is valuable information.
Starting an art collection is often the last thing on anyone's mind these days, especially considering the rising cost of living, and the dramatic costs associated with 'nice art'.
But what if starting an art collection didn't need to be expensive? Is there a way to collect and display art in your home without breaking the bank? Here at Professional Picture Hanging, we like to think so!
Read on below for our guide on how to collect art, and how to keep it budget friendly.
How to Collect Art On A Budget
There are many ways to get started in art collecting, and it doesn't have to be expensive. You can find art at garage sales, flea markets, and even online. Once you start collecting, you may want to focus on a particular artist or type of art. But no matter what your focus is, there are a few things to keep in mind when collecting art on a budget.
First, don't be afraid to haggle. Many times, the seller is willing to negotiate on price, especially if you're buying multiple pieces. Don't be afraid to start small. You can always add to your collection as your budget allows.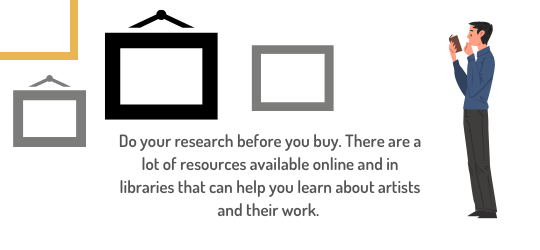 Find a Style You Love
Starting an art collection can be an incredibly rewarding experience. Not only do you get to surround yourself with beautiful objects, but you also get to invest in something that can appreciate in value over time. However, before you start buying artworks willy-nilly, it's important to find a style that you love. This will help you focus your collection and ensure that every piece you buy is one that you truly cherish.
There are many different styles of art out there, so it's important to take some time to explore before making any decisions. Attend art exhibitions, scour galleries, and auction houses, and most importantly, listen to your heart. Once you find a style that speaks to you, stick with it, and build a collection that you can be proud of.
Start Small
How to start collecting art on a budget? Start small!
There are a few reasons why it's important to start small when you're first starting to collect art.
For one, it can be overwhelming to try and purchase a lot of artwork all at once. It's better to start with a few pieces that you really love and build your collection from there.
Another reason is that it's easier to get burned out if you're constantly buying new artwork. If you start small, you can take your time finding pieces that you truly connect with and won't get overwhelmed by the process.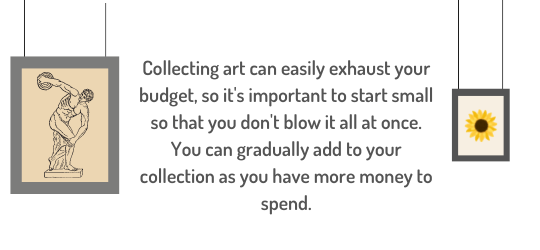 Visit Art Shows and Museums for Inspiration
Visiting art shows and museums for inspiration is important when you start collecting art because it helps you to develop your own taste and style. It also allows you to see what other collectors are interested in and get an idea of the current market. Additionally, it can be a great way to meet other collectors and artists and learn about new artists and movements. Finally, visiting art shows and museums can simply be enjoyable, and it is always beneficial to expand your knowledge about art history and culture.
Find Local Artists on Social Media
When it comes to finding local artists to start your art collection, there are a number of ways you can go about it. One option is to search for them on social media. This can be a great way to connect with artists in your area and get an idea of their work before committing to purchasing anything. Plus, it's a great way to support local talent!
There are a few things to keep in mind when searching for artists on social media, though. First, make sure you're following reputable accounts that are likely to showcase quality work. Second, take some time to read through the artist's bio or website before reaching out – this will help you get a better sense of their style and what they're all about.
Buy at Auction Where Possible
There are plenty of reasons to buy art at auction. For one, it can be a great way to get good deals on art. With so many people vying for the same piece, prices can sometimes go down.
Another reason to buy art at auction is that it can be a great way to find rare or unusual pieces. With so many different auctions happening all the time, you're bound to come across something that catches your eye.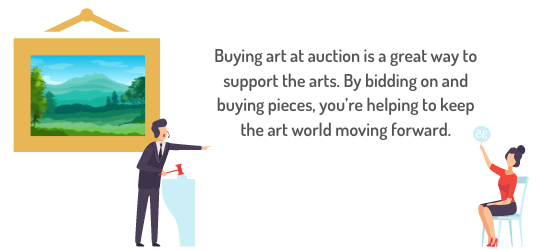 Look for Small Works by Big Names
Looking to start your art collection, but not sure where to begin? One option is to look for small works by big names. This can be a good way to get started for a few reasons.
For one, high-quality works by well-known artists tend to hold their value over time, so you can feel confident that your purchase will be a wise investment. Additionally, these pieces can provide you with instant name recognition and bragging rights, which can be helpful when it comes to impressing clients or dinner guests.
Of course, the downside of this approach is that you may have to pay more for a smaller piece by a big-name artist. But if you're patient and do your research, you should be able to find some great deals.
Be Prepared for the Long Haul
It can be tempting to want to buy everything at once when you first start collecting art. However, it is important to be patient and take your time in order to build a quality collection that you will be happy with for years to come.
One of the benefits of taking your time is that you can learn more about the different artists and styles that are out there. This way, you can make sure that you are buying pieces that you really love and that fit your personal taste. Additionally, you will likely get better deals on artwork if you purchase it over time rather than all at once.
Final Thoughts on Starting an Art Collection
Collecting art is an exciting hobby, more tangible than investing in stocks, and unlike a sports car, art is something you can enjoy each day without it depreciating in value. Starting an art collection does not require millions of dollars, with a bit of acuity of the industry, and willingness to engage with local artists, you can build an impressive collection easily!
Once your collection is beginning to take shape, hanging your art on the wall is the next step to display it around your home or office. That's where Professional Picture Hanging comes in. Experts in installing picture rail hanging systems, we'll have your new art collection up on the walls in a flash. Art is made to be seen, and there's no use in your collection locked away in a dark cupboard. Get in touch with the picture hanging professionals today for a quote and to get your curation started. You'll find us hanging art in Sydney, Melbourne, and Brisbane.